Service Learning
Prof. Dr. Silke Boenigk has regularly offered the project seminar Service Learning at the Universität Hamburg every year since the summer semester of 2009. Originally from the USA, Service Learning is a form of teaching that combines scientific seminar content and practical experience with civic engagement. Participants in a Service Learning seminar regularly attend a seminar (Learning) at the University of Hamburg and simultaneously render voluntary assistance (Service) to a non-profit organization.
With this ongoing project, we are part of the university's network #UHHengagiert (translated: UHH involved). The network is committed to foster the connection between academic teaching, research, and the application of knowledge within the civil society. It aims to bring university and society closer together, enable exchange on eye level, and sets a focus on research-based learning and social responsibility.
In this pdf, you will find information on previous practice partners and project topics (PDF). For further information please contact our Doctoral Researcher, Ms. Charlotte Aßmann, M.Sc.
Becoming a Partner
Within the framework of the Service-Learning Seminar our chair cooperates with numerous public and nonprofit organizations. Are you interested in having students of the Department of Business Administration volunteer to provide a "service" for your organization? Please, contact Ms. Charlotte Aßmann (contact details on the right), with whom you can enter a concrete project assignment, which will then be worked on in the context of a "Service-Learning" seminar by students of the Department of Business Administration.
Service Learning Goals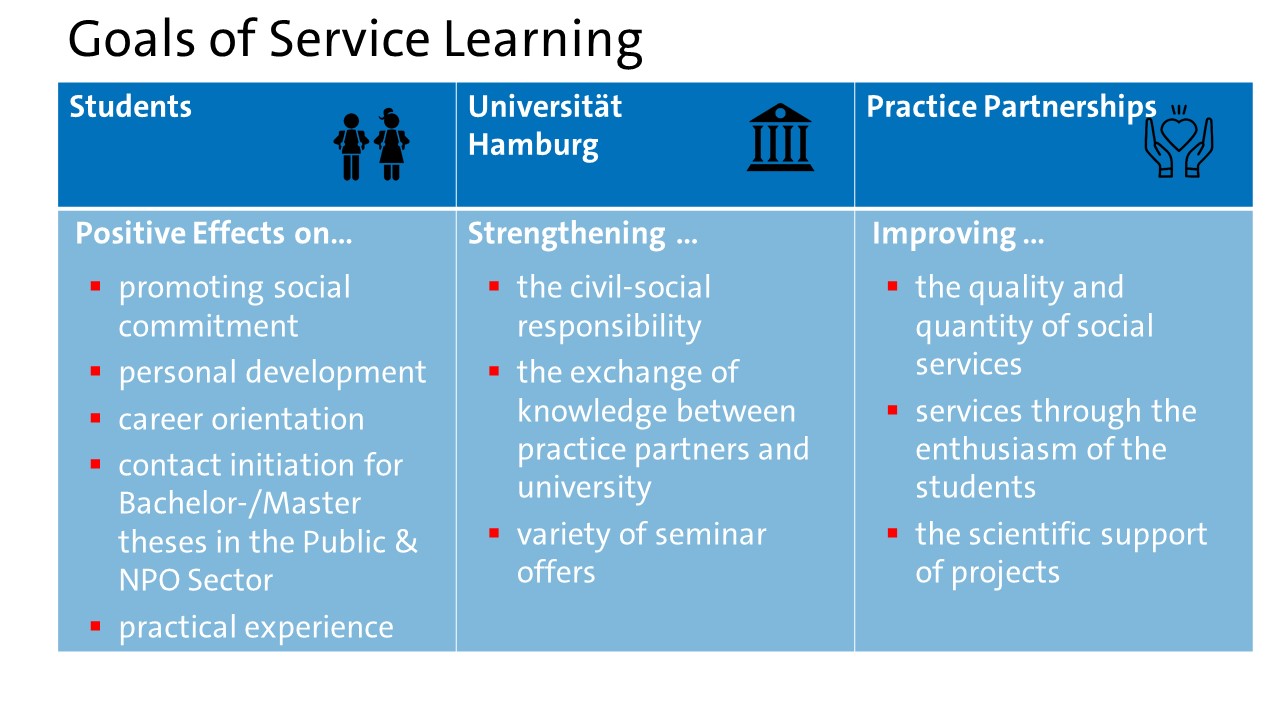 Literature
Adloff, F. (2001). Community Service und Service Learning: Eine sozialwissenschaftliche Bestandsaufnahme zum freiwilligen Engagement an amerikanischen Schulen und Universitäten. Berlin: Maecenata Institut.
Altenschmidt, K., & Miller, J. (2016). Service Learning-Ein Konzept für die dritte Mission. Die Hochschule. Journal für Wissenschaft und Bildung, 25(1), 40-51.
Backhaus-Maul, H. & Roth, C. (2013). Service Learning an Hochschulen in Deutschland. Wiesbaden: Springer VS.
Bringle, R., Hatcher J. (2009). Innovative Practices in Service-Learning and Curricular Engagement. In: Sandmann, L, Jaeger, A. & Thompton, C. (Hrsg.): New Direction in Community Engagement. San Francisco, Jossey-Bass, 37–46.
Godfrey, P. C. & Gregory, R. B. (2005). Creating Breadth in Business Education Through Service- Learning. Academy of Management Learning & Education, 4(3), 309–323.
Kaye, C. B. (2004). The Complete Guide to Service Learning: Proven, Practical Ways to Engage Students in Civic Responsibility, Academic Curriculum, & Social Action. Minneapolis: Free Spirit Publishing.
Kenworthy - U`ren, A. & Peterson, T. (2005). Service-Learning and Management Education: Introducing the "WE CARE" Approach. Academy of Management Learning & Education, 4(3), 272–277.
Kreikebaum H. & Kreikebaum, M. (2016). Service Learning in der betriebswirtschaftlichen Ausbildung als Trainingsfeld für werteorientiertes Verhalten und ethische Konfliktbewältigung. In Antes, R., Müller, M., Siebenhühner, B. (Hrsg.), Umweltmanagement im Nachhaltigkeits- und Verhaltenskontext. Festschrift für Hans Ulrich Zabel, Berlin: Metropol Verlag, 225-236.
Spraul, K. (2009). Service Learning im Rahmen der Speziellen Betriebswirtschaftslehre ''Public & Nonprofit Management'' - Eine Fallstudie, in: Zeitschrift für öffentliche und gemeinwirtschaftliche Unternehmen (ZögU), 32(2), 171-182.