Charlotte Aßmann, M.Sc.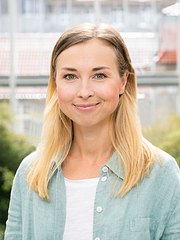 Photo: Leila Ivarsson
Doctoral Researcher
Chair of Management of Public, Private & Nonprofit Organizations
Address
Universität Hamburg
Faculty of Business, Economics and Social Sciences
Socioeconomics/Business Administration
Von-Melle-Park 9
20146 Hamburg
Office
VMP9
Room: B227
Office hours
by appointment per email
Contact
CV
since November 2022: Research assistant at the professorship of Prof. Dr. Boenigk
July 2021 to October 2022: professional experience as sales manager at DIE KAFFEEREI Rösterei GmbH and elbgold Röstkaffee GmbH
January 2020 to June 2021: professional experience as fundraiser at Teach First Deutschland gGmbH
September 2017 to March 2019: Work experience at the DAAD Regional Office for Africa in Nairobi, Kenya
October 2015 to November 2016: work experience as an employee in the project #UHHhilft - study orientation for refugees
October 2016 to September 2019: Master's degree (M.Sc.) in Interdisciplinary Public and Nonprofit Studies at the University ofHamburg, topic of the master's thesis: "Sustainable Consumption - A Study on how to motivate Consumers to buy Fair Trade Products."
October 2012 to September 2015: Bachelor studies (B.A.) in Social Economics at the University of Hamburg, topic of the bachelor thesis: "The influence of brand awareness on the success of nonprofit organizations".
Main Areas of Research
Nonprofit marketing with a focus on brand management
Publications
Publications
Conference Papers
Assmann, C.

(2023). Toward Nonprofits' Challenges of successful Brandmanagement. Colloquium Management Science, Universität Bayreuth, Germany.
Academic and Scientific Activities
Teaching Activities:
Bachelor Socioeconomics
Nonprofit Management
Lecture with Exercise, 6 ECTS
Winter Semester 2022/2023
Theoretical and Practical Aspects of Public & Nonprofit Management
Lecture with Exercise, 6 ECTS
Summer Semester 2023
Selected Problems of Nonprofit Management: Fundraising
Seminar, 6 ECTS
Summer Semester 2023