Allgemeine Inhalte
Seminar description
Relationship marketing scholars agree that communication is a fundamental aspect of relationship development and it is the essence of coordinating behaviour in marketing relationships management. However, one challenging topic for marketing mangers is the large, diverse channel of communication options that are available to support their product and brands. This communication channel might include TV, print advertising, and interactive advertising, trade and consumer promotions, arts, sports, and even cause sponsorships (Keller, 2001). The rise of virtual community and digital media, customers are getting more attention and business are moving towards customer-centric orientation, thus, the level of personalization services has been improvised (Bauer & Grether, 2005). However, marketing communication is still undervalued as most consumers are using different communication channel for product research and purchase activities. Hence, a need to discover what motivates consumers to engage with product or brand offering begs attention. Furthermore, consumers are willing and feel comfortable in sharing contents with people in their affiliated virtual community (Weller, 2016), thus, word of mouth has been transformed from traditional communication ways such as phone and email to user review and comment.
Consumer's attitudes and new product adaption decisions are however based on implicit cognition. Positive stimuli in the environment might produce immediate approach tendencies and negative stimuli might produce instant avoidance action tendencies (Heuer, Rinck, & Becker, 2007; Semmelmann & Weigelt, 2016; Stacy & Wiers, 2010). Regardless of whether we consider them true or false "such associative and automatic evaluations have been termed implicit attitudes" (Prestwich, Hurling, & Baker, 2011, p. 875). In this seminar, we want to assess such behaviour in an experimental setting. Several identical experimental setting can be structured to uncover consumer's unconscious attitudes towards the sustainable environment. The Approach-Avoidance Task (AAT) is based on the finding that stimulus' emotion is related to our psychological element of approach and avoidance (Rinck & Becker, 2007). Thus, we want to explore implicit cognitions measure using AAT to explore following topics*:
1.          Nature and advertising effectiveness
2.         Celebrity endorsement and consumer communications
3.         Animals and marketing communication effectiveness
4.         Social ties and consumer generated contents
5.          Kids and communication with the brand
6.         Voice recognition devices as a marketing/communication channel
7.          Other topics related to marketing communication are welcomed!!!
Note*: please find relevant literature/sources at the bottom of this document
Traditionally, the AAT aim was to reveal automatic tendencies by means of arm movements (Klein, Becker, & Rinck, 2011; Weil, Feist, Moritz, & Wittekind, 2017). To go beyond the traditional AAT, Ask Your Brain (AYB) software/App is developed. Figure 1 depicts an AAT trial showing food-related stimuli using AYB software/App. Therefore, a key objective of this seminar is to provide students with a novel application of AAT in understanding Marketing Communications and Consumers Unconscious Tendencies (i.e., application of the AAT to the measurement of individual unconscious tendencies).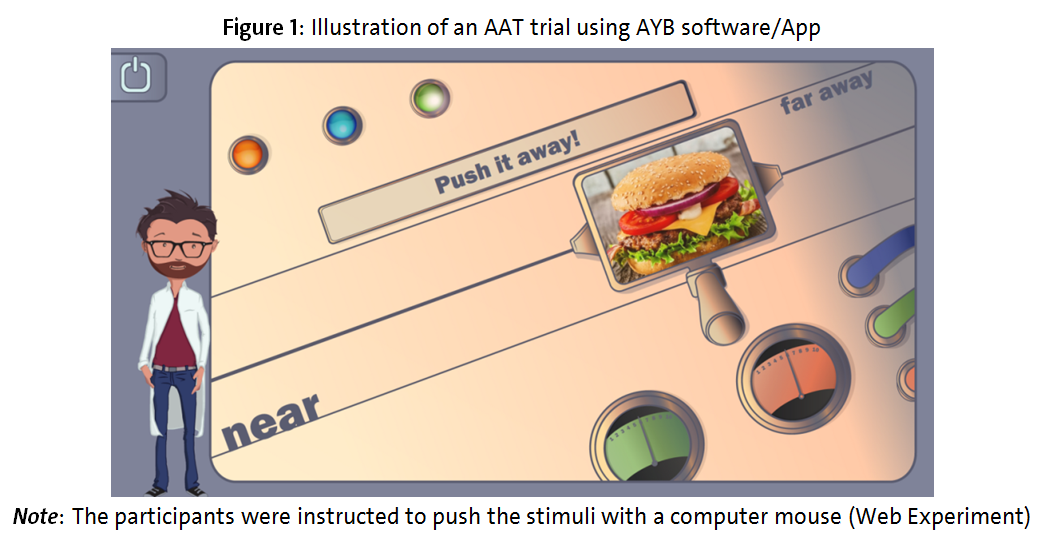 Seminar Setup and Timeline
The seminar allows students to experience a real-life consumer research project using Ask Your Brain (AYB) software/App. Students will be provided with essential guidance on how to use the AYB software/App during the seminar. State-of-the-art measurement instruments will be used to measure consumers´ cognitions (i.e., IAT and AAT). As we work empirically, the seminar is bound to be time-consuming, demanding and challenging. However, it enables students to participate in cutting-edge market research paving the way for Bachelor theses. Our environment is changing quickly and drastically, thus, we want to explore implicit cognitions towards marketing communication using experimental measures to explore several topics
Due to empirical nature of the seminar, it is expected that students are equipped with basic knowledge of data analysis strategies (e.g., descriptive statistics, ANOVA) and primary understanding of statistical software such as SPSS. However, students will be provided with required guidance on data coding and analysis during the seminar. Following a mandatory organisational kickoff, the seminar will be held in several blocks.
Students will outline the theoretical basis during the seminar by a short presentation of literature synopsis and their experiment set up. Following the third block, students are expected to begin data collection followed by data coding and analysis (under supervision). During the seminar, students are expected to present their empirical findings followed by discussion. Students need to submit their written report for the seminar.  
Grading information
Passing the seminar requires the following:
·         Presentation on theoretical foundation
·         Final presentation of findings
·         Written report on the own empirical study
Each part has to be passed at least with a 4.0 in order to pass this seminar.
Please note that this seminar requires permanent participation. Course participants may not miss more than 15% of the total courses. In case of sickness, please provide a certificate from your doctor. If you decide against a participation in this course, please sign off on STiNE within two weeks after the course starts. This allows fellow students that were not admitted to the course due to capacity restrictions to participate.
Required Reading
Malhotra, N. (2004). Chapter 7: Causal research design: experimentation, in Marketing Research: An Applied Orientation, 7th edition, Pearson/Prentice Hall.
Gabrieli, J. D. E. (1999). The architecture of human memory. In: J.K. Foster & M. Jelicic (Eds), In Memory: Systems, Process or Function?. Oxford: Oxford University Press, 205–231.
Kahneman, D. (2003), Maps of bounded rationality: Psychology for behavioral economics, The American economic review, 93, 1449-1475.
Stacy, A. W., & Wiers, R. W. (2010). Implicit cognition and addiction: a tool for explaining paradoxical behavior. Annual Review Of Clinical Psychology, 6, 551-575.
Perkins, A., Forehand, M., Greenwald, A. G. and Maison, D. (2008), "The influence of implicit social cognition on consumer behavior: Measuring the non-conscious," In C. Haugtvedt, P. Herr & F. Kardes (Eds.), Handbook of Consumer Psychology (pp. 461-475). Hillsdale, NJ: Lawrence Erlbaum.
Literature and Sources (General-Implicit cognition)
Bauer, H. H., & Grether, M. (2005). Virtual Community. Journal of Relationship Marketing, 4(1-2), 91-109. doi:10.1300/J366v04n01_07
Heuer, K., Rinck, M., & Becker, E. S. (2007). Avoidance of emotional facial expressions in social anxiety: The Approach-Avoidance Task. Behav Res Ther, 45(12), 2990-3001. doi:10.1016/j.brat.2007.08.010
Keller, L., Kevin. (2001). Mastering the marketing communications mix: Micro and macro perspectives on integrated marketing communication programs. In: Taylor & Francis.
Klein, A. M., Becker, E. S., & Rinck, M. (2011). Approach and Avoidance Tendencies in Spider Fearful Children: The Approach-Avoidance Task. J Child Fam Stud, 20(2), 224-231. doi:10.1007/s10826-010-9402-7
Prestwich, A., Hurling, R., & Baker, S. (2011). Implicit shopping: attitudinal determinants of the purchasing of healthy and unhealthy foods. Psychol Health, 26(7), 875-885. doi:10.1080/08870446.2010.509797
Rinck, M., & Becker, E. S. (2007). Approach and avoidance in fear of spiders. Journal of behavior therapy and experimental psychiatry, 38(2), 105-120.
Semmelmann, K., & Weigelt, S. (2016). Online psychophysics: reaction time effects in cognitive experiments. Behav Res Methods. doi:10.3758/s13428-016-0783-4
Stacy, A. W., & Wiers, R. W. (2010). Implicit cognition and addiction: a tool for explaining paradoxical behavior. Annual review of clinical psychology, 6, 551-575.
Weil, R., Feist, A., Moritz, S., & Wittekind, C. E. (2017). Approaching contamination-related stimuli with an implicit Approach-Avoidance Task: Can it reduce OCD symptoms? An online pilot study. J Behav Ther Exp Psychiatry, 57, 180-188. doi:10.1016/j.jbtep.2017.05.007
Weller, K. (2016). Trying to understand social media users and usage. Online information review, 40(2), 256-264. doi:10.1108/oir-09-2015-0299
Literature and Sources (Seminar topics)
1.          Nature and advertising effectiveness
- Herzog, T. R. (1989). A cognitive analysis of preference for urban nature. Journal of Environmental Psychology, 9(1), pp. 27-43.
- Strumse, E. (1994). Environmental attributes and the prediction of visual preferences for agrarian landscapes in western Norway. Journal of Environmental Psychology, 14(4), pp. 293-303.
- Hartmann, P., & Apaolaza-Ibanez, V. (2010). Beyond savanna: An evolutionary and environmental psychology approach to behavioral effects of nature scenery in green advertising. Journal of Environmental Psychology, 30(1), pp. 119-128.
2.         Celebrity endorsement and consumer communications
- Boeuf, B., & Darveau, J. (2017). Posting from beyond the grave: An autopsy of consumer attitudes toward promotional communication in a posthumous context. International Journal of Research in Marketing, 34(4), pp. 892-900.
- Tzoumaka, E., Tsiotsou, R. H., & Siomkos, G. (2016). Delineating the role of endorser's perceived qualities and consumer characteristics on celebrity endorsement effectiveness. Journal of Marketing Communications, 22(3), pp. 307-326.
- Carroll, A. (2009). Brand communications in fashion categories using celebrity endorsement. Journal of Brand Management, 17(2), pp. 146-158.
Patel, P., & Basil, M. (2017). The Effects of Celebrity Attractiveness and Identification on Advertising Interest. Academy of Marketing Science Annual Conference.
3.         Animal and marketing communication effectiveness
- Borkfelt, S., Kondrup, S., Röcklinsberg, H., Bjørkdahl, K., & Gjerris, M. (2015). Closer to nature? A critical discussion of the marketing of "ethical" animal products. Journal of Agricultural and Environmental Ethics, 28(6), pp. 1053-1073.
-Burton, L., & Collins, F. L. (2015). Mediated animal geographies: Symbolism, manipulation and the imaginary in advertising. Social & Cultural Geography, 16(3), pp. 276-298.
-Vanhonacker, F., Verbeke, W., Van Poucke, E., Pieniak, Z., Nijs, G., & Tuyttens, F. (2012). The concept of farm animal welfare: Citizen perceptions and stakeholder opinion in Flanders, Belgium. Journal of Agricultural and Environmental Ethics, 25(1), pp. 79-101.
4.         Social ties and consumer generated contents
- Goh, K.Y., Heng, C.S. and Lin, Z., 2013. Social media brand community and consumer behavior: Quantifying the relative impact of user-and marketer-generated content. Information Systems Research, 24(1), pp.88-107.
- Chu, S.C. and Kim, Y., 2011. Determinants of consumer engagement in electronic word-of-mouth (eWOM) in social networking sites. International journal of Advertising, 30(1), pp.47-75.
- Liu-Thompkins, Y. and Rogerson, M., 2012. Rising to stardom: An empirical investigation of the diffusion of user-generated content. Journal of Interactive Marketing, 26(2), pp.71-82.
5.         Kids and communication with the brand
- Moore, E.S., 2004. Children and the changing world of advertising. Journal of business Ethics, 52(2), pp.161-167.
- Livingstone, S. and Helsper, E.J., 2006. Does advertising literacy mediate the effects of advertising on children? A critical examination of two linked research literatures in relation to obesity and food choice. Journal of communication, 56(3), pp.560-584.
- Jill Austin, M. and Lynn Reed, M., 1999. Targeting children online: Internet advertising ethics issues. Journal of consumer marketing, 16(6), pp.590-602.
6.         Voice recognition devices as a marketing/communication channel
- López, G., Quesada, L. and Guerrero, L.A., 2017. Alexa vs. Siri vs. Cortana vs. Google Assistant: a comparison of speech-based natural user interfaces. In International Conference on Applied Human Factors and Ergonomics (pp. 241-250). Springer, Cham.
- Fulgoni, G.M., 2018. Will Digital Commerce and Analytics Be the Death of Traditional Brands?. Journal of Advertising Research, 58(2), pp.146-150.
- Lopatovska, I., Rink, K., Knight, I., Raines, K., Cosenza, K., Williams, H., Sorsche, P., Hirsch, D., Li, Q. and Martinez, A., 2018. Talk to me: Exploring user interactions with the Amazon Alexa. Journal of Librarianship and Information Science, p.0961000618759414.
---