Sie sind hier:UHH > WiSo-Fakultät > Fachbereich Sozialökonomie > Professuren > Chair for Organization Studies > Organization Studies > News > Team invited to present its work on major international management conferences
Team invited to present its work on major international management conferences
30. April 2020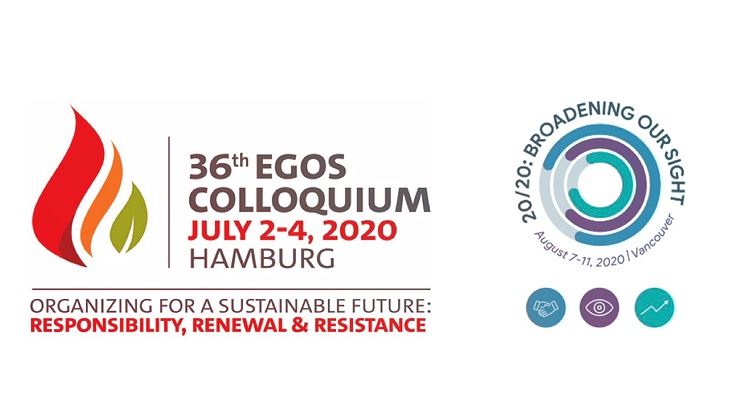 Foto: EGOS / AOM
We are proud to announce that our team is invited to present its latest research on the most important international management conferences in 2020.

1. 36th Colloquium of the European Group for Organization Studies by University of Hamburg
The 36th EGOS Colloquium is the largest international conference for scholars of organization studies, attracting up to 2500 participants from across the globe. The conference was meant to take place at the University of Hamburg, from July 2-4, 2020, organized by Professor Geiger and team. Due to the COVID-19 pandemic, the conference will now held as a virtual conference, the first academic conference of this seize to try such a bold move.
We will be presenting the following papers:
Darkow/Geiger/Weinfurther/Seidl: The designing of physical space as coordination mechanism in extreme contexts: The case of refugee camps
Seidemann: The Process of Repairing Organizational Legitimacy: Toward an Understanding of the Paradoxical Nature of Legitimacy Repair

2. Annual Meeting of the Academy of Management, Vancouver, Canada.
The annual meeting of the Academy of Management is the worlds largest conference for management scholars with around 12000 attendees from across the world. The conference will be held in Vancouver, Canada from August 7-11, 2020. 
We will be presenting the following papers:
Hoekzema/Geiger: Exploring Routine Interdependence: Fluid Boundaries and Adaptive Patterning
Hoekzema/Kremser/Geiger: Granularity Matters! Towards a Methodological Framework for Routine Studies
Seidemann: The Process of Repairing Organizational Legitimacy: Toward an Understanding of the Paradoxical Nature of Legitimacy Repair