Iris Seidemann, M.Sc.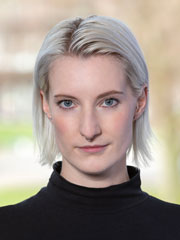 Foto: RRZ-MCC_Mentz
Doctoral Researcher
Anschrift
Universität Hamburg
Fakultät für Wirtschafts- und Sozialwissenschaften
Von-Melle-Park 9
20146 Hamburg
Büro
Raum: B428a
Sprechzeiten
Consultation hours: Tuesday 03:00pm - 04:00pm (Please make an appointment via email).
Note: there are NO regular consultation hours during the semester break.
Kontakt
Curriculum Vitae
Iris Seidemann joined the Chair for Organization Studies as a doctoral researcher in October 2019. She accomplished a bachelor's degree in 'Governance and Public Policy' from University of Passau, concentrating on political theories and research on populist parties. During her studies, she worked at the Jean Monnet Chair of European Politics as a student assistant. After completing her bachelor, she was selected for a trainee program in fashion management. She worked as a department manager at Peek & Cloppenburg KG gaining experiences in human resource development as well as area and order management. She acquired further practical experience at the tech startup Fashion Cloud in Hamburg where she was responsible for CRM development, customer service and sales. Iris attained her master's degree in 'Interdisciplinary Public and Nonprofit Studies' (PUNO) at University of Hamburg where her scientific interests focused on philanthrocapitalism, workforce composition in public service and organizational legitimacy. Currently, her research interests are in the fields of failing legitimacy repair and organizational paradoxes.
Teaching
Summer term 2020
Grundkurs Organisation, B.A.
Organisationstheorie und -entwicklung, M.A. 
Winter term 2019/2020
Grundkurs BWL, B.A.
International Organizations: Structures, Processes and Culture, M.A.
---