Social Sciences Library
Allende-Platz 1, 3rd Floor
20146 Hamburg
Tel.: +49 40 42838-3550
map

Opening hours
Monday to Friday: 9 am - 9 pm
Saturday and Sunday: 10 am - 6 pm
Service hours
Monday to Friday: 9 am - 5 pm

Short notice changes of the opening hours will be posted under News from the WiSo Library.
1 von 11
Photo: UHH-Baumann
Social Sciences Library - Allende-Platz 1
The Social Science Library provides information resources for the department Social Sciences which is part of the Faculty  of Business, Economics and Social Sciences.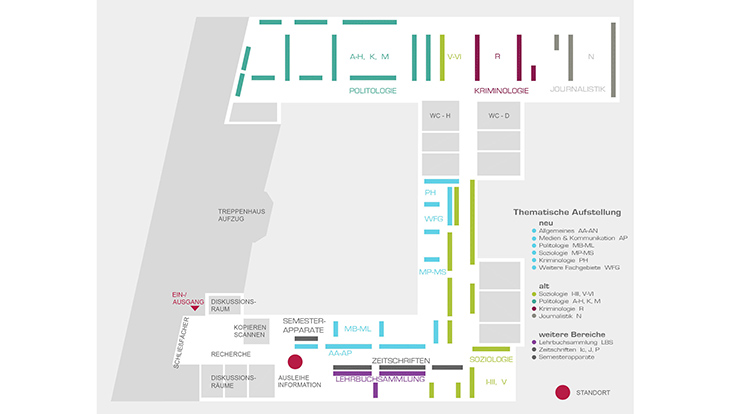 Photo: UHH-Sowi-Bib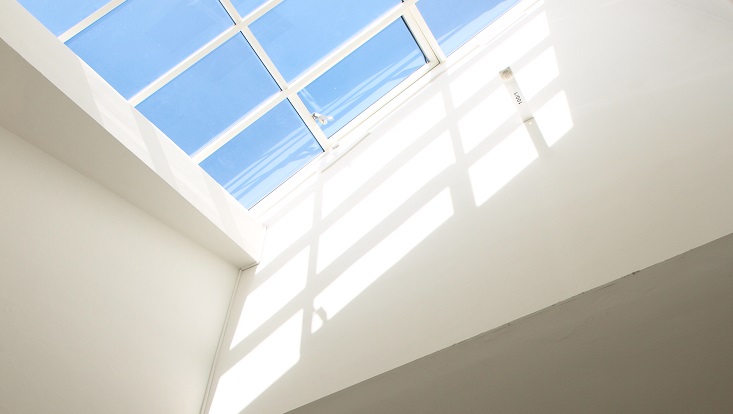 Photo: UHH-B.Woltersdorf
Collection and main subject areas
The Social Sciences Library has a collection of 88.000 books and keeps more than 100 current print journals.
The collection includes materials from the subjects of sociology, political science, journalism and mass communication, and criminological social research.
You can search the library's complete collection via the Campus Catalogue or Katalogplus.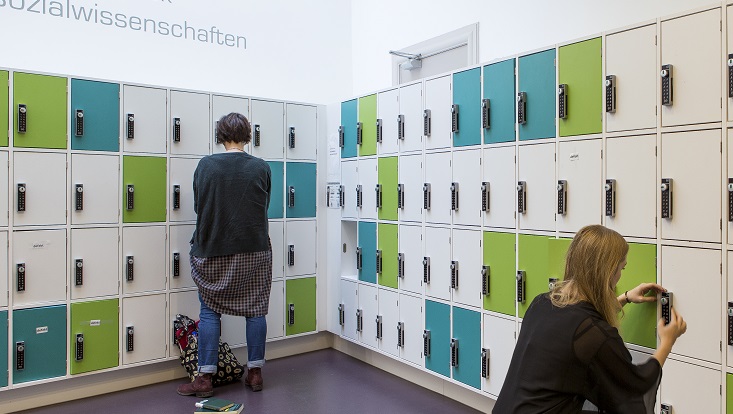 Photo: UHH-Mentz
Lockers
You lock and open the lockers with an indiviudal PIN that you choose yourself.
You may bring coats, study equipment and beverages into the library.
Photo: UHH-Mentz
Types of media and borrowing options
The library has an extensive collection of research literature (specialized collection),  for the subjects collected in the library. Items in this collection can generally be checked out.
Furthermore you find multiple copies of textbooks used in classes offered by the Department of Social Sciences. Books from the textbook collection can also be checked out. Many textbooks are also available as eBooks.
Both interdisciplinary and subject-specific reference works and dictionaries are available in print form. Reference works may not be checked out, but the library also offers access to licenced online resources that may be used from any location.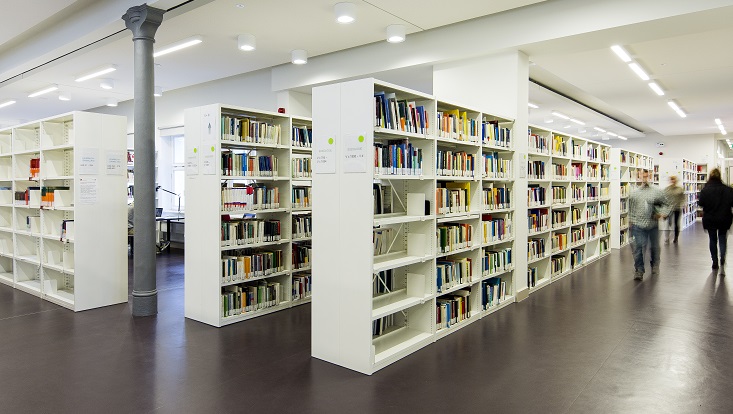 Photo: UHH-Mentz
Library collection: locations
The majority of the collection is freely accessible and organized by subject in the reading rooms of the library.
In addition, a small part of the collection is stored in the stacks in the basement of the building. You can conduct a literature search and request items in the stacks via the Campus Catalogue/beluga.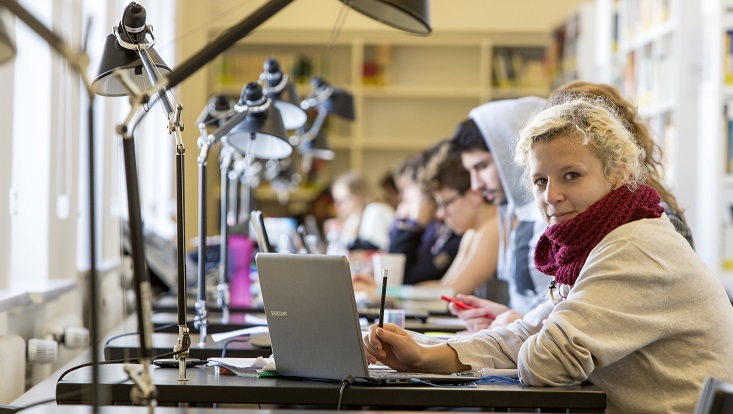 Photo: UHH-Mentz
Individual workspaces
The library offers more than 116 individual workspaces and 4 research computers.
All workspaces are equipped with sockets and network connections. The library is part of the campus-wide wireless network (eduroam), which gives  students, faculty, and staff network access from all over campus.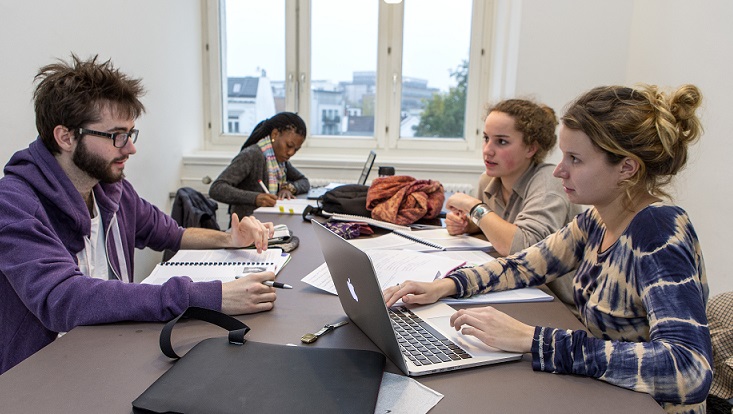 Photo: UHH-Mentz
Discussion rooms
The library provides 4 discussion rooms. The three bigger ones are fitted with a large touchscreen. You can reserve the rooms online.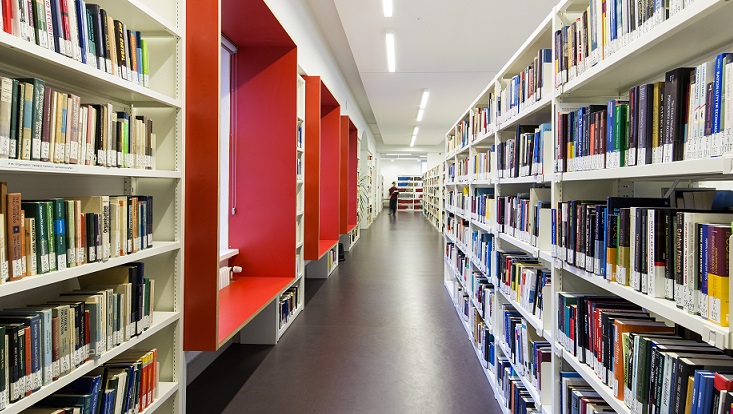 Photo: UHH-Mentz
Scan, copy, print
You find a book scanner and two photocopiers  in the library. You can scan, copy or print the documents you are working with. Please, heed the copyright law.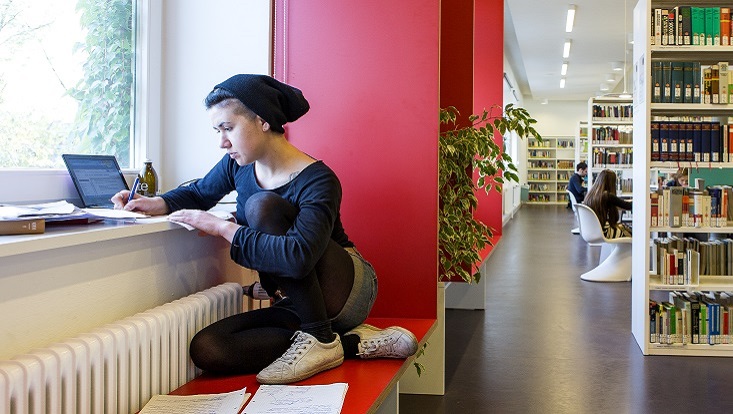 Photo: UHH-Mentz
The Social Science Library is a popular workspace. Light rooms and unusual workspace design create an inspiring atmosphere.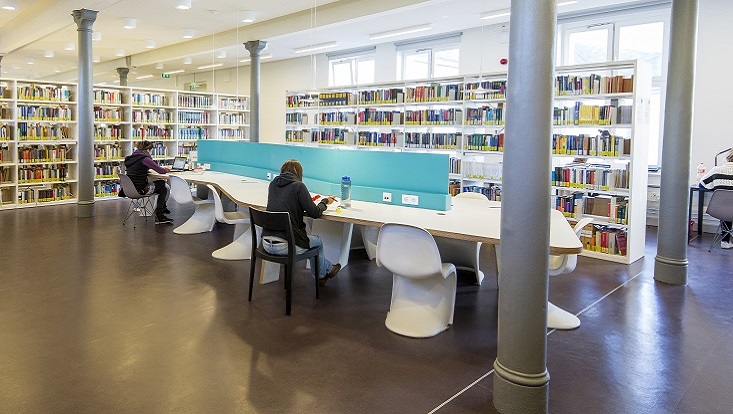 Photo: UHH-Mentz
During the restoration of the library in 2012/2013 we managed to combine functionality and design. You find historical structures like the restored columns in reading room 2 as well as modern design.
---