Jana Leonie Schneider, M.A.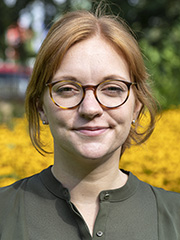 Photo: Arvid Mentz
Research Assistant
Address
Universität Hamburg
-Socioeconomics
Sociology
Welckerstr. 8
20354 Hamburg
Office
Room: 3.22
Contact
Fax: +49 40 4273-13836
Curriculum Vitae
October 2019 - present
Research assistant, Chair of Sociology, in particular Life Course and Sustainability, Universität Hamburg
January 2019 - present
Ph.D student – "#Widerstand – Generation Z und ihre Auseinandersetzung mit extrem rechten Milieus im Social Web". Supervisor Prof. Dr. Christine Hentschel, Graduate School - International Criminology, Faculty of Economics and Social Sciences, Universität Hamburg
2018-2019
Project management, model project "We come together". Regional movement for democracy, diversity and participation, Soziale Bildung e.V., Rostock

2015-2018
Master Internationale Kriminologie, Universität Hamburg
2015 – 2018
Student assistant, project planning and evaluation, ifA gGmbH - non-profit institute for applied prevention and health, Lübeck
2012 – 2014
Student assistant, project collaboration in scientific experiments and surveys, AG cognitive neuroinformatics FB 3 University Bremen
2011-2016
BA Sociology, University of Bremen
Main Research Areas
Research on radicalisation and resilience
- Racism, group-related misanthropy
- Media/Technology - and Sociology of Emotion
- Political education work
- Qualitative methods
Presentations and Talks
Schneider, Jana Leonie: "Hafenstraße 1996 – Gedenken & Anklagen", gehalten im Rahmen der Kick-Off-Veranstaltung "Todesopfer rechter Gewalt in Schleswig-Holstein – Historisch-politische Stadtrundgänge in Flensburg, Lübeck und Möllnon October 19, 2021 in cooperation with Zebra e.V. (Centre for victims of right-wing attacks).
Schneider, Jana Leonie: "#Widerstand: Jugend, Hate Speech, Emotionen – über den Einfluss rechtsradikaler digitaler Hasskulturen und die Herausbildung einer demokratischen Resilienz bei Jugendlichen", held as part of the conference "Speak UP! – Hate Speech und Fake News" given on December 25, 2021 in Eupen, Belgium. 
Schneider, Jana Leonie: "Rassismus in digitalen Räumen - theoretische Grundlagen und praktische Erprobung zur Förderung von Lernprozessen Jugendlicher",  held as part of the lecture series "Monat Vielfalt 2021" on July 3, 2021 at the Unversity of Vechta.
Schneider, Jana Leonie: "Hatespeech - abschalten oder aushalten?",  held as part of an online workshop for Junge Presse NRW e.V. on March 2, 2021.
Schneider, Jana Leonie: "#Widerstand. Pädagogische Arbeit mit Jugendlichen mit rechten Orientierungen", talk given in the framework of a series of lectures  "Aufwachsen unter rassistischen Verhältnissen", on February 10th and February 15th, 2020 at the University of Siegen.
Courses
Summer Semester 2022
Interdisziplinärer Grundkurs II
Winter Semester 2021/2022
Interdisziplinärer Grundkurs I
Summer Semester 2021
Online-Blockseminar: Rechtsextremismus und digitale Hasskulturen. Neue Arbeitsfelder der Sozialen Arbeit.  Gehalten an der Universität Siegen, Fakultät II, Department Erziehungswissenschaft und Psychologie.
Winter Semester 2020/2021
Seminar: Emotionssoziologie: Hass und Hetze im digitalen Raum
Summer Semester 2020
Seminar: Hatespeech und (Rechts)Populismus