Viola Logemann, M.A.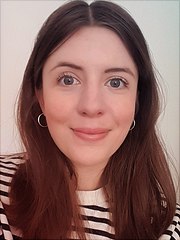 Photo: Viola Logemann
Research Assistant
Address
Universität Hamburg
Welckerstr. 8
20354 Hamburg
Office
Room: 3.13
Contact
Fax: +49 40 4273-13836
Curriculum Vitae
April 2018 - present
Research Assistant, Professorship for Sociologiy, in particular Conduct of Life, Universität Hamburg
2018
M.A. Sociology and Social Research, University of Bremen
2016-2018
Student Assistant within the project " Lebensführung als investive Statusarbeit- Praktiken, Bedingungen, Störungen" (Lifestyle as investment status work - practices, conditions, interferences), SOCIUM Research Center for Inequality and  Social Policy, University of Bremen
2016
Student Assistant within the project "Resystra- Auf dem Weg zu resilienten Energiesystemen" (Resystra - Towards Resilient Energy Systems), Department of  Technical Formation and Technology Development, University of Bremen
2015
B.A. Sociology, University of Bremen
Main Research Areas
love and intimate relationships
family
conduct of life and life course
qualitative methods, in particular documentary method
Dissertation Project
For my doctoral thesis I am conducting research on couples moving in together for the first time. The focus is on the process of moving in, furnishing, and settling in together, the meaning of personal and shared things and living with them, and the interpretation and significance of the apartment as a personal and shared home. I approach these research objects empirically through narrative couple interviews, walking interviews, and photographic material. Theoretically, my research builds on the concept of the construction of reality according to Berger and Luckmann (1969) and its specification for couples by Berger and Kellner (1964) and Lenz (2009). Central for me is on the one hand the joint construction of the partners and on the other hand the question how the material dimension, concretized in the apartment and the personal things in it, can be systematically taken into account.
My dissertation project is supervised by Prof. Dr. Katharina Manderscheid and Prof. em. Dr. Karl Lenz.
Presentations and Talks
Logemann, Viola (2023): Ko-Konstruktionen von Paaren und ihrem Zuhause. Die erste gemeinsame Wohnung unter der mikrosoziologischen Lupe. Vortrag im Rahmen der Herbsttagung der Sektion Familiensoziologie der Deutschen Gesellschaft für Soziologie an der Universität zu Köln, 07. und 08. Dezember 2023.
Logemann, Viola (2023): "Unsere erste gemeinsame Wohnung" – Intimität als Gegenstand und Methode bei der Erforschung von Paaren zuhause. Vortrag im Rahmen des Kongress der Österreichischen Gesellschaft für Soziologie, Ad-Hoc-Gruppe: "Kulturen der Intimität in kritischen Zeiten. Zum theoretisch-methodologischen Potential des Intimen" Wirtschaftsuniversität Wien, July 3-5, 2023.
Logemann, Viola (2022): "Unsere erste gemeinsame Wohnung". Einziehen, Einrichten und Einleben von Paaren mit der dokumentarischen Methode erforschen. Vortrag im Rahmen der internationalen Tagung "Wohnen erforschen: Method(olog)ische Zugänge und forschungspraktische Reflexionen" Universität of Zurich,  July 7th and 8th, 2022.
Logemann, Viola: "Paarbeziehungen von Studentinnen. Zwischen Liebe und Selbstverwirklichung" (Couple Relationships of Female Students. Between Love and Self-Realization), talk given during the workshop on "Paarbeziehungen heute: Kontinuität und Wandel" (Couple Relationships Today: Continuity and Change), April 26th and 27th, 2019, University of Siegen
Courses
Summer Semester 2018 - Winter Semester 2019/20
Interdisciplinary Basic Course: Love and Couple Relationship in Change
Summer Semester 2020
Seminar: Couple Relationship and Family from a Gender Theoretical Perspective
Summer Semester 2021
Seminar: Forms of love, family and relationships beyond the heteronorm
Summer Semester 2022 - Winter Semester 2022/23
Interdisciplinary Basic Course: Family and Relationship
Summer Semester 2023
Seminar: Sociology of Love