Redkina Irina, M.A.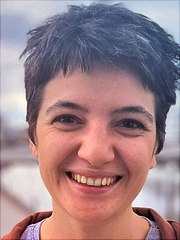 Photo: Irina Redkina
Research Assistant
Address
Universität Hamburg
Socioeconomics
Sociology
Welckerstr. 8
20354 Hamburg
Office
Room: 5.18
Contact
Fax: +49 40 4273-13836
CV
May 2022 – present
Research Assistant at Universität Hamburg, Department of Socioeconomics. Part of the Research Training Group "Urban future-making: Professional agency across time and scale" as a doctoral researcher at HafenCity Universität Hamburg (Hamburg, Germany).
November 2019 – May 2022
Program Assistant for EducationUSA Network at Institute of International Education (Budapest, Hungary)
July 2019 – Oct. 2019
Project Coordinator (Internship) at Research Center for Cultures, Politics and Identities (IPAK.Center) (Belgrade, Serbia)
2019
MA of Sociology and Social Anthropology, Central European University (Budapest, Hungary).
2014
Managing editor of the weekly bi-lingual newspaper (in Russian and Uzbek) within Foundation for Central Asia's labour migrants (Saint Petersburg, Russia)
2013 – 2018
Transcribing interviews for verious research projects at Center of Independent Social Research (Saint Petersburg, Russia)
2012
Specialist Diploma of Business Communication, Saint Petersburg State University of Technology and Design (St Petersburg, Russia)
Main Research Areas
Architecture and urban planning in post-socialist cities
Cold-War architecture
Working-class history in Central and Eastern Europe
Ethnicity and race in the USSR and contemporary Russia
Qualitative methods
Talks and Presentations
2023, 28 June – 01 July. Presentation 'Futuristic Pluralism of Modernist New Town: The Case of a Steel-Industrial City in India' at the conference Making the City: Transformative Processes in (Post)Industrial Urban Spaces (Chemnitz University of Technology in cooperation with the Sächsisches Industriemuseum Chemnitz, Germany).
2023, 31 March – April 2. 'XX Century Modernism and Single-Industry Cities: The Legacy of Socialist Built Environment in post-Soviet Mezhdurechensk', at the Conference of the British Association for Slavonic and East European Studies (BASEES) (University of Glasgow, United Kingdom).
2023, 27–31 March. Excursion 2023 RTG Urban future-making "East Side Futures – Urban Transformations in Eisenhüttenstadt, Lausitz Region, Dresden and Chemnitz".
2023, 13–14 February. Presentation 'Socialization of cities: The meaning of the City through Today's Daily Life Within Modernist Urban Planning' at the Interdisciplinary Workshop-1 "Conceiving Cities, Understanding Interdisciplinarity" (Hafencity University, Germany).
2022, August 24–27. Presentation 'XX Century Modernism and Monotowns. The History of Urban Planning in the USSR' at the 8th Doctoral Workshop 'Microhistories of Socialism and Postsocialism' (Centre for Cultural and Historical Research of Socialism & Juraj Dobrila University of Pula, Croatia).
2019, October 11-13. Presentation 'Gender, Life-Course, Generation: Entrepreneurship in a post-Soviet industrial town' at Eastern European Feminist Conference "Tight little dress in national colours" (Kaunas, Lithuania).