Prof. Dr. Michael Brüggemann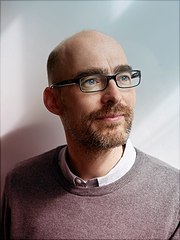 Photo: UHH/MBrüggemann
Professor
Communication Studies, Climate and Science Communication
Address
Universität Hamburg
Faculty of Business, Economics and Social Sciences
Social Sciences
Journalism and Mass Communication
Grindelberg 5-7
20144 Hamburg
Office
Room: 3013
Contact
Portrait
Dr Michael Brüggemann started his research and teaching at the Faculty of Business, Economics and Social Sciences in February 2015. His area of expertise is the study of journalism, political communication and science communication from a comparative and international perspective.He explores how journalists cover issues such as climate change and how these practices change. He also seeks to explain why they do so, by looking e.g. at media systems, editorial policies and cultures of journalism. More recent research focusses on the changing roles of journalists and scientists in science communication.
He is Principal Investigator  at the Cluster of Excellence CliSAP at the Universität Hamburg and directs the Research Group "CRG Media Constructions of Climate Change"., He is engaged in interdisciplinary exchange in the context of the Center for Earth System Research and Sustainability (CEN), the Centre for Globalisation and Governance (CGG) and the Research Center for Media and Communication (RCMC). 
Curriculum Vitae
Since
9/ 2018

Principal Investigator and Projekt leader, Cluster of Excellence
CLIMATE, CLIMATIC CHANGE, AND SOCIETY (CLICCS)

Since 2015  
Professor of Communication Sudies, esp. Science and Climate Communication    
Principal Investigator at the Cluster of Excellence (Excellenzcluster) "Integrated Climate System Analysis and Prediction" (CliSAP),  Universität Hamburg
2014
Habilitation, Communication Science,  Universität Zürich: Changes in Transnational Communication und Journalism (Transnationale Kommunikation und Journalismus im Wandel)
2011
Projectmanagement' Framing Climate Change (FCC)', Universität Zürich
2010-2015
Senior Teaching and Research Associate, IPMZ, Universität Zürich
2007
Postdoctoral Fellow, Jacobs University Bremen Coordinator SFB 597 (Project: Transnationalisation of public spheres)
2007
Dissertation with distinction, Communication Science, Universität Hamburg: "A European Public Sphere through Public Relations? The Information Policy of the European Commission"

2002-2007

Research and teaching at the universities of Munich and Bremen

2001

Diploma, Journalism, University of Munich (German School of Journalism)
Awards and Scholarships
Article of the Year Award - 2013
Awarded by the European Journal of Communication for
Brüggemann, M./ Kleinen-v. Königslöw, K. (2013): Explaining cosmopolitan coverage. In: European Journal of Communication, 28 (4), 361-378.
Best submission (Junior staff) 2008
Awarded by the German Society of Journalism and Communication (Deutsche Gesellschaft für Publizistik und Kommunikation (DGPuK)
Teaching Prof. Dr. Michael Brüggemann - winter term 2022-23
Teaching during previous semesters