Dr Robin Tschötschel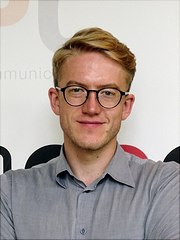 Photo: UHH/Tschötschel
Senior Research Associate (Post-Doc)
Address
Universität Hamburg
Faculty of Business, Economics and Social Sciences
Social Sciences
Journalism and Mass Communication
Von-Melle-Park 5
20146 Hamburg
Office
Room: 2103
Contact
Portrait
Dr Robin Tschötschel joined the team of Prof. Dr. Michael Brüggemann in May 2022 as a postdoctoral research.
His research interests lie predominantly in the area of public communication about political and societal aspects of climate change. His focus lies on the nexus of social justice, identity and climate change, and the political and social processes that drive societal and political change.
Methodologically, Robin Tschötschel works with a broad repertoire ranging from (internationally comparative) survey research, over partially automated content analysis to interview methods.
Curriculum Vitae
Time

Education and Position

Since May 2022

Senior Research Associcate (Postdoc) in the team of Prof. Michael Brüggemann Chair of Communication Studies, esp. Climate and Science Communication" at  Universität Hamburg

March 2022

Defense of doctoral dissertation titled "Past the tipping point: climate change and the public sphere in Germany and the United States" at the University of Amsterdam
(Advisors: Dr. Andreas Schuck; Dr. Anke Wonneberger)

Nov 2017 - Oct 2021

Doctoral candidate and researcher at the Amsterdam School of Communication Research (ASCoR), University of Amsterdam

Aug 2015 - Oct 2017

Lecturer at the "Politics, Psychology, Law and Economics College", University of Amsterdam

Sep 2015 - Aug 2017



Studies in the master of science social science research methods at the University of Amsterdam.
Master thesis titled "Pragmatism trumps paradigms: economic sense- and policymaking in Austria during and after the Great Recession" accepted cum laude
(advisor: Prof. Dr. Daniel Mügge)
Teaching in previous semesters