Second network meeting at VU Amsterdam
20. März 2019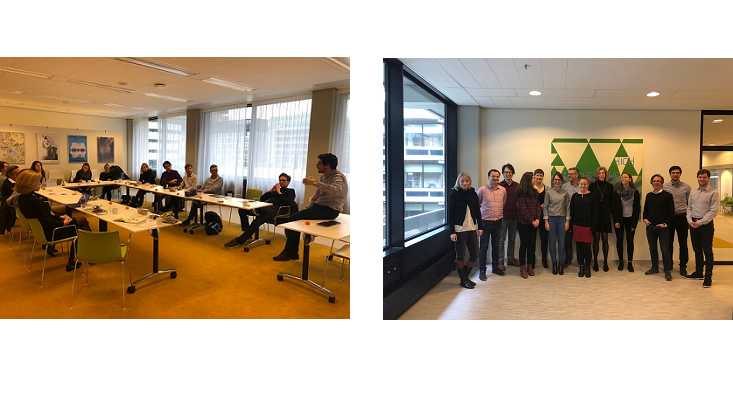 Foto: DFG Network "Grand Challenges & New Forms of Organizing"
On March 14-15 2019 we held our second network meeting at VU Amsterdam. During the meeting our members engaged with questions about how to promote scholarship that contributes to tackling grand challenges through new forms organizing; we discussed methodological and educational challenges in this respect, and brainstormed about different strategies to create an impact with our work.
Our meeting was joined by two guest speakers who held inspiring keynote speeches about setting the agenda for research about grand challenges as well as how to promote important interdisciplinary research. Jennifer Howard-Grenville, professor at Cambridge University's Judge Business School offered us important insights about how to create momentum for a new scholarly conversation about grand challenges that unites existing debates about topics like sustainability, climate change, development studies and corporate social responsibility. Frank de Bakker, professor at IESEG School of Management in Lille, France, reflected about the challenges linked to doing interdisciplinary research. We were also happy that several associate scholars of our network joined us this time and made a substantial contribution to the success of the meeting.
While in our first meeting the objective was to gain an understanding of the complexities linked to grand challenges and new forms of organizing, in the second meeting we zoomed in on the question of how to tackle these in our own research, teaching and involvement in practice. We also discussed to influential contributions to the academic literature on grand challenges and new forms of organizing, respectively, and engaged with the authors of this work in a videoconference. Here, the goal was to help develop a common understanding of what grand challenges and new forms of organizing actually are – and what not.
We ended the first evening of our meeting with a dinner in a special place in Amsterdam, a restaurant that only serves sustainable food and is built on a business model that emphasizes sustainability in all of its operations. The second day was concluded with an outlook at our third network meeting that will take place at Rotterdam School of Management in September.
Some impressions were shared via Twitter here. If you are interested in our research and wish to explore potential collaborations, please contact us here.