Melissa Satzger, M.Sc.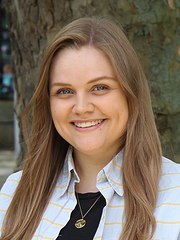 Photo: Sandra Henninger
Research Associate
Chair of Public Management
Address
Universität Hamburg
Faculty of Business, Economics and Social Sciences
Socioeconomics
Business Administration
Von-Melle-Park 9
20146 Hamburg
Office
Room: B236
Contact
CV
Melissa Satzger joined the Chair of Public Management at Universität Hamburg as a doctoral researcher in November 2021.
She holds a Bachelor's degree from Hochschule München University of Applied Sciences in Business Administration, focusing on Human Resource Management, and Master's degree from Technische Universität München in Consumer Science, focusing on Strategy and Leadership.
During her studies, Melissa specialized in organizational and team behavior, leadership, leadership development, and employee motivation. Additionally, she gained professional experience in different organizations in the areas of strategy and governance as well as human resources, especially in recruiting, diversity management and workforce development.  She also worked as a student assistant at the Chair of Research and Science Management in the area of Leadership, Learning & Innovation.
Publications
Vogel, R., & Satzger, M. (2023). What drives the attractiveness of public and private employers? Comparative evidence from an online employer review platform. American Review of Public Administration (forthcoming).
Satzger, M., & Vogel, R. (2023). Do inclusive workplace policies foster employer attractiveness? Comparative evidence from an online employer review platform. Public Personnel Management (forthcoming). Open Access
Research and Teaching
Teaching
SoSe 2023: BA Socioeconomics - Organizational Behavior: Current Issues and Challenges in Public Management (seminar)
SoSe 2023: BA Socioeconomics - Interdisciplinary Introductory Course 1 (seminar)
WiSe 2022/23: BA Socioeconomics - Theoretical and Practical Implications of Public and Nonprofit Management (tutorial)
WiSe 2022/23: BA Socioeconomics - Organizational Behavior: Current Issues and Challenges in the Public Sector (seminar)
SoSe 2022: BA Socioeconomics - Organizational Behavior: Current Issues and Challenges in the Public Sector (seminar)
SoSe 2022: BA Socioeconomics - Public and Nonprofit Management (tutorial)
WiSe 2021/22: BA Socioeconomics - Public and Nonprofit Management (tutorial)