Anne Dahlweg, B.A.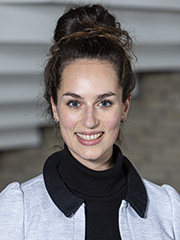 Photo: UHH, RRZ/MCC, Mentz
Team Assistant Prof. Vogel
Chair of Public Management
Address
Universität Hamburg
Faculty of Business, Economics and Social Sciences
Socioeconomics
Business Administration
Von-Melle-Park 9
20146 Hamburg
Office
Room: B231
Contact
CV
Anne Dahlweg joined the Chair of Public Management at Universität Hamburg in September 2021.
She obtained a Bachelor's degree in Public Management from Hochschule für Verwaltung in Niedersachsen (HSVN) in 2018 and has since worked in different fields, such as in financial management at the state of Lower Saxony and as a lecturer at HSVN. She is in charge of the administration of the chair and supports the doctoral researchers in research-related tasks. Currently, she studies M.Sc. Interdisciplinary Public and Nonprofit Studies at Universität Hamburg.