Sandra Henninger, M.A.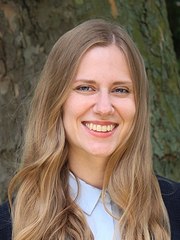 Photo: Sandra Henninger
Research Associate
Chair of Public Management
Address
Universität Hamburg
Faculty of Business, Economics and Social Sciences
Socioeconomics
Business Administration
Von-Melle-Park 9
20146 Hamburg
Office
Room: B239
Contact
CV
In July 2022, Sandra Henninger joined the Chair of Business Administration, in particular Public Management at Universität Hamburg as PhD student and doctoral researcher.
She completed her bachelor's and master's degrees in culture and economics at Universität Mannheim, majoring in business administration, philosophy, and psychology. From 2019 to 2022, she worked as a consultant with focus on the public sector at an international strategy consultancy. In this context, she accompanied various transformation projects of public institutions on federal, state and municipal level.
In addition, she gained international work experience through various internships, including in the field of organizational development. Furthermore, Ms. Henninger worked as a student
assistant at the Chair of ABWL, Public & Nonprofit Management at Universität Mannheim as well as at the Leibniz Institute for German Language.
Research and Teaching
Teaching
SoSe 2023: MSc PUNO - Digital Transformation in the Public Sector (seminar)
SoSe 2023: BA Socioeconomics - Public and Nonprofit Management (tutorial)
WiSe 2022/23: BA Socioeconomics - Public and Nonprofit Management (tutorial)
WiSe 2022/23: MSc PUNO - Public and Nonprofit Methods (tutorial)