This page:UHH > Faculty of Business, Economics and Social Sciences > Research > Research centers > CSS > CSS News > News in 2021 > Interview Dr. Jan Wilkens
Meet our members, Episode 2 - Dr. Jan Wilkens
"What do possible solutions for the climate crisis mean for just climate futures?"
"Are we really talking about sustainable and equitable solutions for people in the Global South or are we just reproducing injustices?"
13 December 2021, by CSS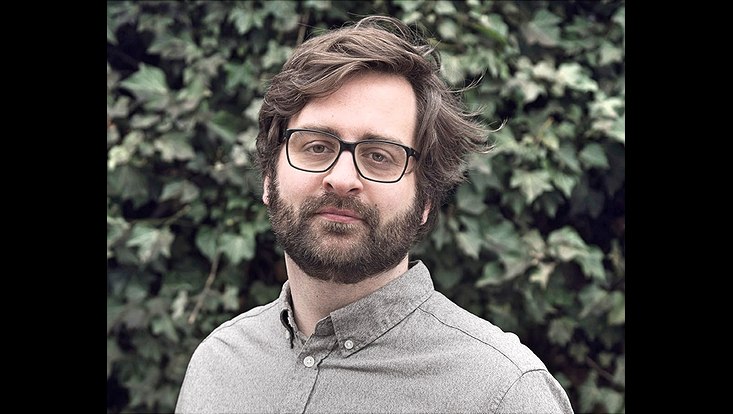 Photo: private
As part of our Meet Our Members series, CSS member Dr. Jan Wilkens is talking to us today about his research, what inspired his interest in sustainability, and what a successful day looks like for him!
Profile
Dr. Jan Wilkens has been working as a postdoctoral researcher since October 2021 in the Synthesis team of the Climate, Climatic Change and Society (CLICCS) cluster of excellence. He has been a member of CSS since 2014. Wilkens did his doctorate on "Translocal Activism and the Syrian Struggle in Global Politics" at Universität Hamburg. Prior to that, he completed his bachelor in Islamic studies and political science at Universität Hamburg and a master's program in Middle East politics at the School of Oriental and African Studies (SOAS) in London.
Website: http://jan-wilkens.com/
What are the major topics of your resesarch?
My interests lie in the field of political science, especially International Relations (IR). I am primarily interested in social movements, particularly the question of climate justice within the CLICCS project. I focus above all on the Mediterranean, West Asia and North Africa (WANA). In my research, I draw on post-colonial perspectives, norms research, and research on social movements.
My dissertation examined Syrian and transnational activism and asked how this activism relates to international politics: who is integrated into international politics and how? What kind of exclusionary mechanisms are at work? How can and should the social diversity of civil society activists be taken into account in international politics?
Of course, these questions also play a key role in my research on climate justice. I look at how civil society activism within the formal frameworks of international negotiations influences climate goals, their implementation, their funding, and the sharing of burdens.
My research raises the key question of what climate justice means for people who may not have any access to these forums and to what extent it even plays a role or not. This knowledge is incredibly important for understanding whether goals established by international organizations can be realistically achieved.
What happens in international relations and negotiations is, on the one hand, important; but on the other hand, global developments in this area are often viewed from a very Eurocentric perspective. For example, people in the so-called Global South have long understood that the consequences of climate change are very grave, but key players in international relations have long ignored them.
So the question arises: what do specific negotiations and possible solutions mean for just climate futures? For whom are the recommended solutions really a solution? Are we really talking about sustainable and equitable solutions for people in the Global South or are we just reproducing injustices? 
I am interested in and motivated by these concerns. 
How do you examine these issues in your research?
I primarily use qualitative methods in my research. I am a trained scholar of Islam and a political scientist and I work a lot with interviews and the analysis of documents. For me, direct exchange with interview partners is vital. This kind of research is not only important from an ethical perspective; it also allows me to do research that is sustainable in the best sense.
Due to the COVID-19 pandemic, field research is currently very limited, which is a big challenge for me and other researchers.
Beyond the pandemic, my research involves travel in the regions I am researching. In the last few years, for example, I have spent a time in Lebanon and I am planning further research trips in other North African countries.
My travelling activity connects well with the question, which is the subject of a working group in the CSS: What is sustainable research? My research, and that of many other researchers, often goes hand in hand with flying. Accordingly, researchers are naturally forced to think about what they might be able to do online. However, there are limits, especially when it comes to qualitative research. It is especially difficult, if not impossible, to develop the trust created by personal interaction with an interview partner via digital means.
What could we improve in climate policy so that local voices are heard?
While the demand that we listen to more voices is in itself, of course, constructive; it is only somewhat significant. Especially when it comes to climate negotiations, it is of course important to ask how they can be made more inclusive in the sense that many of those affected are really involved.
However, what we are seeing in the CLICCS working group is that there exist very different ideas about what climate change and nature actually means. We are finding this particularly in our research in the Arctic, where many indigenous people are very politically active. Here it is becoming clear that climate negotiations and current international climate policy are very much formed by Western notions of the human relationship to nature. The knowledge that locals have must be included seriously in climate negotiations to ensure sustainable climate policies.
How do you get to work when you are not working from home due to the pandemic?
I go by bike or cargo bike. Depending on how and whom I need to take with me in the mornings, I choose either the bike or the cargo bike. In a modestly sized apartment with children, working from home is possible only sometimes and it was a huge challenge in the last year. That's why I asked for permission to work in my office.
What do you consider a successful day?
A successful working day means that I manage to work on content-related topics, write, read, or simply get further in my research. I think that's a great feeling for each and every researcher.  It's not a given, however, for that to happen every day. It's also a successful day—and that has only become much clearer during the pandemic—when I have the time and the opportunity to exchange thoughts with colleagues. Whether that's over lunch or during a short break, it's incredibly enriching and fortifying. After work, a successful day naturally means time with my children, going out with my partner, and, of course, having some time for myself. Sometimes, a day would need 48 hours to make all of that possible.
How did you get interested in the topic of sustainability?
I chose the topic of sustainability for personal reasons even before I began to do academic work on it. I grew up in a very small village in a very rural region. I used to spend a lot of time in the forest with my parents and my grandparents had a farm, so my connection to nature and my dealing with to nature were of interest to me early on. As an adolescent, I joined a local Agenda 21 group to protect our local forest.
On the other hand, the region I grew up in is strongly shaped by the farming industry; the meat industry is especially strong there. This naturally has a great impact on nature, as well as on local social and political dynamics. The farmers and the entire region depend upon this work but the question arises: Is it really sustainable? Is this the way we want to live? These complexities influenced me very early and continued after I completed high school: I did civilian service on the West Bank in Palestine, where nature has been drastically altered by the building of settlements.
What research interest is not on your CV?
I would like to look more closely at the question of religious discourse with regard to climate and nature. Especially because I am focusing on the regions of western Asia and Africa, I would be interested in whether and how religious discourses there approach climate change and how to deal with it. It's especially interesting because these regions are strongly affected by climate change. For example, temperatures in southern Iraq reach an astounding 49° Celsius and at the same time Iraq needs to deal with the consequences of rising sea levels. I am interested in how communities respond to these kinds of situations and what role religious discourse and actors play. From my research on post-colonial approaches, I know that it is especially important to emphasize the diversity and heterogeneity of (religious) discourse and not to stigmatize certain people. Climate research from the perspective of social science can more strongly illuminate this diversity.
What will a happy childhood look like in 2050?
I envision a happy childhood in 2050 in a socially just world; in a world in which diversity is normal and children can grow up finding cultural diversity "normal." Of course, children should also still have access to nature. To me, these aspects are most urgent because they are the conditions for a happy childhood.
What comes to mind when you hear the buzzword 'zero-emission Hamburg'?
I think about the building of another terminal for cruise ships and the density of car traffic ... but leaving this cynical view aside for a moment: on the positive side, I see that many, especially young people—including my son, who has just started school—are thinking about sustainability and emissions reduction and they are asking what is happening and needs to happen in Hamburg to reach these goals.
At the same time, I find it hard to view the city in isolation from the rest of the world. It's very important to think globally about cities. Especially when you look at a city like Hamburg, where the economy and wealth is strongly shaped by global connections. It's great, of course, that in Hamburg there will hopefully soon be fewer cars on the streets and greater use of renewable energy, but at the same time, the question arises as to what good this will do if these strategies are not also implemented in places with which Hamburg is globally connected.
When did you stop thinking you'd become more sustainable, or do you still think so?
I can't recall ever consciously thinking I am sustainable. As a social scientist, the more I become aware of the complexity of sustainable lifestyles, the less I believe in it. That is especially true in my private life, e.g., in discussions about whether using straws is sustainable or not. Of course it's great if restaurants pay attention to sustainable, waste-reducing products; at the same time, there is a danger of obscuring much more important issues that we actually need to address. The tension between what I can do personally and what needs to change structurally is simply always there.
To me personally, it's important to use sustainable products. At the same time, I have the privilege of being able to travel and I am aware that flying, for example—at least with regard to CO2 emissions—undermines the daily bike ride to work.
The question is still a good one, however, because it forces you to reflect on your own privileges, because research clearly shows that privileged people in particular are the ones who produce the most CO2 emissions. Climate justice, understood as a process, of course also means reflecting upon one's own part in existing injustices.
Is there anything else that you would like to add to our discussion?
I want to return one more time to the topic of sustainable research. Sustainability is not in this case just about the sparing use of resources, particularly with regard to travel and flying, and how we will handle these in the future.
I think, rather, we should look at the debate surrounding #ichbinhanna and the situation of young researchers from not just an economic perspective but from the perspective of sustainability. On the one hand, we expect young researchers to pursue excellent research and develop a clear profile; on the other hand, the working conditions, especially with regard to temporary contracts, are structurally so difficult that I don't think they can ensure sustainable research. All members of all universities, including professors, need to think about this. As it's clear not all young scientists can ultimately become professors, other types of positions need to be created. That, however, will be possible only if existing structures at universities change in the future.
Thank you very much for the interview!