Fridolin Wolf, M.A.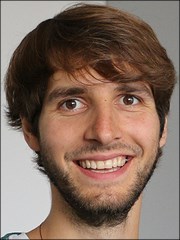 Photo: Fridolin Wolf
Research Assistant
Address
Universität Hamburg
Faculty of Business, Economics and Social Sciences
Sozialökonomie
Welckerstraße 8
20354 Hamburg
Office
Room: 5.16
Contact
Fax: +49 40 4273-13836
Main Areas of Research
Povery, Material and Social Particpation
Educational Inequality
Job/Work Satisfaction
Quantitative Methods
Dissertation Project
In my dissertation project, I focus on safeguarding the stand of living and pose the main/larger-scale question in how far European welfare states view/see gainful employment as a central factor for safeguarding their life standard and social participation. In this context,  I concentrate on poorly renumerated gainful employment which is characterized by workplace insecurity/precarity. On the basis of a setting in which different countries are compared, I analyse the influence of labour market oriented measures and how these affect the standard of living. On another level, the comparion of the life standard of the unemployed is the center of my attention. My dissertation project is supervised by Prof. Dr. Peta. Böhnke und Prof. Dr. Henning Lohmann.
Curriculum Vitae
July 2017 - present
Research Assistant at the Chair of Sociology, in particular Social Cahnge, School of Business, Economics and Social Sciences, Department of Socioeconomics, Universität Hamburg.
March 2015 - May 2017
Student Assistant at the Chair of Methods of Empircal Social Research, School of Business, Economics and Social Sciences, Department of Socioeconomics, Universität Hamburg.
October 2014 - March 2017
Studies in Sociology and Economics, Universität Hamburg
Title of Master Thesis: "Besser erwerbsarm als erwerbslos arm? – Ein empirischer Vergleich der Lebenslagen von Erwerbsarmen und erwerbslosen Armen in Europa"
October 2010 - March 2014
Studies in Sociology, University of Munich
Title of BachelorThesis: "Der Einfluss subjektiv wahrgenommener Arbeitsplatzmerkmale auf die Zufriedenheit mit der Arbeit"
Presentations and Talks
"Work, Income Poverty And Material Deprivation In Europe – How Do Working And Non-Working Poor Differ In Their Standard Of Living?"; ESPAnet Conference "Transformation of European Welfare Systems: Challenges, Problems and Future Prospects"; 30. August–1. September 2018; Vilnius (together with Petra Böhnke und Henning Lohmann, talk given by: Fridolin Wolf).
Publications
Follmer, R., J. Kellerhoff & F. Wolf, 2018: Vom Unbehagen an der Vielfalt. Gütersloh: Bertelsmann Stiftung.