Malte Griebenow, M.Sc.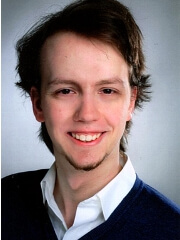 Photo: Malte Griebenow
Wissenschaftlicher Mitarbeiter
Ökonomik der Gesundheit und der Sozialen Sicherung
Address
Universität Hamburg
Faculty of Business, Economics and Social Sciences
Sozialökonomie
Volkswirtschaftslehre
Esplanade 36
20354 Hamburg
Office
Room: 4022
Office hours
For the time being, consultation will only be offered ONLINE, generally Wed 14-15.
Please use the following link to reserve a consultation time slot: https://terminplaner4.dfn.de/sprechstunde-griebenow
Contact
Short biography
Malte Griebenow is a research assistant and PhD student at the department of Socioeconomics at Universität Hamburg.
He studied mathematical economics at Universität Hamburg with a focus on economics and applied mathematics. In his master's thesis he applied recently developed procedures to test D-optimal algorithms for efficiency.