Research focuses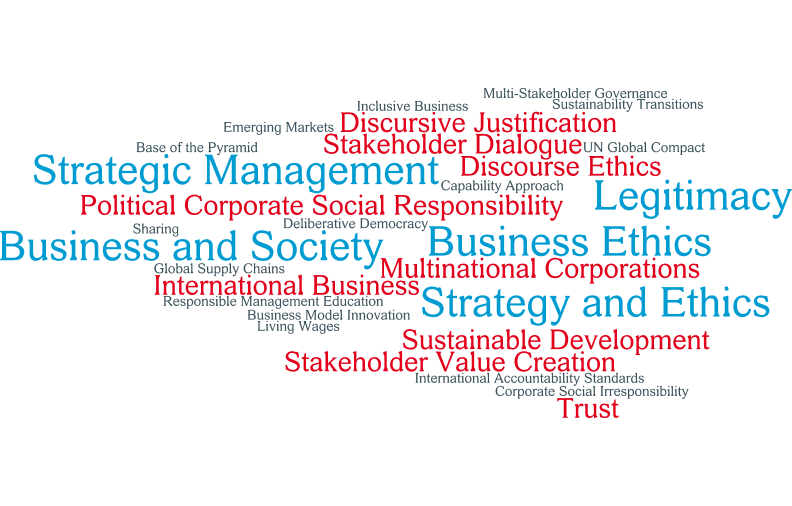 Research activities at the Chair of Business Ethics and Management are particularly focusing on:
Strategic Management and Ethics
Contrary to most approaches in strategic management, we assume that companies as part of society are ultimately to be regarded as a means to an end and not as an end in themselves. In this respect, the prerequisites, contents and results of the strategy process must undergo a permanent ethical reflection.
Against this background, we explore how companies can better fulfill their responsibility to society. Strategy and ethics are therefore not a contradiction but can be reconciled within the framework of responsible management.
One focus of our research is the conceptual further development of ethically responsible strategy processes and the empirical investigation of deficits in strategic management practice in international companies.
In particular, our work focusses on the further development of our own approach to integrate ethical reflection into the process of strategic management.
In addition, our research projects examine current strategy concepts (e.g., Michael Porter's shared value concept) to determine to what extent they can contribute to bridging the often-existing dichotomy between economics and ethics.
Furthermore, ethical conflict potentials in individual functional areas of corporate management (e.g., innovation management, supply chain management or marketing) are focus of our interest.
 
On the basis of theory-led research, we aim to derive practical recommendations for the management practice of international companies. Current research projects are often conducted in close cooperation with corporate practice to ensure that the empirical research is application oriented.
Key findings from these research efforts have already been incorporated into the new edition of a textbook on strategic management published in 2018 (Hartmut Kreikebaum/Dirk Ulrich Gilbert/Michael Behnam; Strategisches Management, 8th edition, Lehrbuch, Kohlhammer Verlag).
Implementation of Ethics
We understand ethics to be a permanent process of critical reflection on justifiable normative principles. Ethics and related operational measures can therefore not be implemented in companies in a strictly technical-instrumental sense. This is because business ethics does not provide directly applicable knowledge (know-how), but rather produces argumentatively justified orientation knowledge in the sense of principles and guiding ideas (know-what).
Against this backdrop, this research area is concerned with the organizational and personnel approaches available to international companies to ensure that ethically responsible behavior is actually implemented in business practice. The structural and organizational consequences - so-called "ethics measures" – and the question of whether business ethics can be institutionalized at all are focused on.
However, institutionalization of ethics must not be limited to the individual company. In order to develop ethical reflection beyond the company, the voluntary willingness to assume ethical responsibility must be supplemented by a comprehensive system of incentives and sanction mechanisms at the industry level (e.g., industry standards) and in the framework order (e.g., OECD guidelines).
In business practice, dilemmas often arise from the introduction of ethically desirable measures on the one hand and the associated competitive disadvantages on the other, which are caused by cost advantages of competitors with lower standards. Within the research, it is important to develop new starting points and improve existing concepts (e.g., UN Global Compact, SA 8000) to better protect the ethical advances of individual competitors in the future. A particular focus of our work is on the so-called International Accountability Standards.
A further research focus in this area is on questions of the governance of complex network structures in which international companies are increasingly integrated. Against the background of the findings of various social science theories (e.g., new systems theory, structuration theory), we investigate which approaches are available to international companies for controlling network-wide relationships. Based on the assumption that the existing literature on network research has so far not paid enough attention to a theoretically founded differentiation of the emergence of trust, the significance of this coordination medium for network practice is examined in particular.
Approaches to the Justification of International Business Ethics
In this area of research, we focus upon the theoretical, that is philosophical substantiation of ethically flawless conduct in international enterprises. As internationally active businesses are confronted with greatly diverging belief systems and ethical norms, we examine in particular which normative measures and values can aid as orientation frameworks for maneuvering conflicts.
In other words: can norms and values of the head office also be implemented in foreign countries and claim validity everywhere (universalism), or should they be conceptualized as relative and therefore adapted to the respective host countries and cultures (cultural relativism)?
Hence, the central task of our research is answering whether existing concepts of business ethics (e.g. Integrative Social Contracts Theory, Political CSR), are practically implementable in international businesses and which starting points can be identified for their further development. It is imperative to conceptualize an approach based not upon the deduction of norms, as such an approach often appears too selective to capture the life experiences of people in a variety of different cultures.
Instead, an international business ethic must concentrate upon a non-deductive concretization of norms through discursive methods, which are based, for example, on universal principles of communication. For this reason, particularly concepts of discursive ethics and the developing research orientation of so-called deliberative democracy are central to our publication projects.
This focus on a broader field within the context of responsible leadership is in line with a strong belief that problems concerning management cannot be categorized according to the individual disciplines traditionally covered by business administration.

Therefore, applied research in the area of business ethics and management is to be oriented in a cross-disciplinary manner by its very nature. Nevertheless the three aforesaid research areas are closely linked to one another due to the underlying guiding theories and the methodological access to gaining scientific knowledge. Apart from purely conceptual research projects, we also carry out empirical research projects.