Prof. Dr. Anita Engels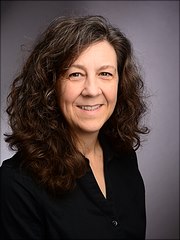 Photo: A. Engels
Professor for Sociology, especially Globalisation, Environment and Society
Address
Universität Hamburg
Faculty of Business, Economics and Social Sciences
Sozialwissenschaften
Soziologie
Allende-Platz 1
20146 Hamburg
Office
Room: 426
Office hours
During the winter term 2023/24 there will be office hours on a weekly basis. Please register to them by contacting Anika Hummel: anika.hummel"AT"uni-hamburg.de stating your reason for discussion.
Contact
---
Secretary's office
Assistant of Prof. Engels
Sozialwissenschaften
Soziologie
Allende-Platz 1
20146 Hamburg
Room: 427
CV
1988 bis 1994 Studium der Soziologie an der Universität Bielefeld; Auslandsaufenthalt an der E.H.E.S.S. in Marseille
1994 bis 1999 Promotionsstudiengang der Soziologie an der Universität Bielefeld; zeitgleich wissenschaftliche Mitarbeiterin in verschiedenen DFG-geförderten Projekten unter der Leitung von Peter Weingart; zunächst am Zentrum für interdisziplinäre Zusammenarbeit, danach am Institut für Wissenschafts- und Technikforschung.
1999 bis 2001 achtzehnmonatiger Postdoc-Aufenthalt am Institute for International Studies, Stanford University, Kalifornien.
2001 bis 2004 wissenschaftliche Mitarbeiterin in DFG-geförderten Projekten am Institut für Weltgesellschaft, Universität Bielefeld
2004 bis 2005 Vertretung C1-Stelle, Fakultät für Soziologie, Universität Bielefeld, Lehrgebiet Wirtschaftssoziologie
2005 bis 2009 Juniorprofessur für Soziologie, Universität Hamburg, Institut für Soziologie
Seit August 2009 W3-Professur für Soziologie, insbesondere Globalisierung, Umwelt und Gesellschaft, Universität Hamburg, Fachbereich Sozialwissenschaften
Herbst 2010 Ruf auf die W3-Professur für Wissenschaftssoziologie, Universität Bielefeld (abgelehnt)
Sommersemester 2011 Visiting Scholar an der School of Education, Stanford University (auf Einladung von Woody Powell)

Sommersemester 2016 Visiting Scholar an der EHESS Paris (auf Einladung von Eve Chiapello)
Publications
Books
Articles in scientific / peer reviewed journals / Other publication outlets
Articles in scientific volumes
Working Paper Series (ed.)
Reviews
Lectures
2018
2017
2016
2015
2014
2013
2012
2011
2010
2009
2008
2007
2006
2005
2004
2003
2002
Media
Die Klimakonferenz COP 21 der Vereinten Nationen ist am 12. Dezember 2015 mit einer Einigung zu Ende gegangen. Der KlimaCampus Hamburg hat dazu folgende Erklärung abgegeben.
Workshop "Soziologie und Klimawandel - Forschung und Strategie", gemeinsame Veranstaltung des Exzellenzclusters "Integrated Climate System Analysis and Prediction (CliSAP)" und des Centrums für Globalisierung und Governance (CGG) am 7. Oktober 2015 in Hamburg. 
Interview u.a. mit CliSAP-Sprecherin in "Hamburgs Beste", Juli 2015:
"Measuring Sustainable Development - How Can Science Contribute to Realizing the SDGs?"International Conference organized by the Deutsche Forschungsgemeinschaft (DFG) and the United Nations Universitiy (UNU) in New York, April 23 and April 24 2015

Session on "Ownership of the Sustainable Development Goals - Chaired by Anita Engels:
2. DKK-Klima-Frühstück

Mit Professorin Anita Engels (Exzellenzclusters CliSAP an der Universität Hamburg) und Dr. Sonja Peterson (Institut für Weltwirtschaft an der Universität Kiel); veröffentlicht am 5.3.2014.