Dr. Giulia Tattarini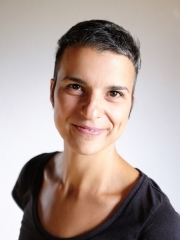 Photo: G. Tattarini
Research Associate (Post-Doc)
Address
Universität Hamburg
Faculty of Business, Economics and Social Sciences
Socioeconomics
Sociology
Welckerstraße 8
20354 Hamburg
Office
Room: 2.14
Contact
CV
09/2021-present
Post-Doc, Project: Parenting Academia – The productivity of Unitn parents before/during/after the pandemic. PI: Prof. Agnese Vitali, University of Trento (IT)
09/2021- 12/2021
Teaching Assistant, Bachelor course: Quantitative methods for research (Chair: Prof. Agnese Vitali), Sociology, University of Trento, Dep. Sociology and Social research.
09/2021
Research Assistant by Fondazione Collegio Carlo Alberto (Turin, IT), Project's heads Prof. M. Naldini and Prof. Chiara Saraceno.
04/2021- 08/2021
Research Assistant in the project "MINDtheGEPs: Gender equality in research: Reducing gender imbalances in European research institutions and generating data to support the development of national and European policy for gender equality in research performing organisations" (Horizon2020), PI: Prof. Cristina Solera, University of Turin (IT)
03/2020-12/2022
Research Collaborator in the project: 'PESP: Pandemic Emergency in Social Perspective', PI: Linda Lombi, Università Cattolica del Sacro Cuore di Milano and Marco Terraneo, Università degli Studi Milano-Bicocca.
05/2019-05/2020
Research Collaborator in the project: 'HEALFAM: The effects of unemployment on health of family members', PI Prof. Dr Anna Baranowska-Rataj (Umeå University, Sweden)
01/2017-12/2020
Research Fellow and doctoral scholarship holder of the Doctoral program 'Good Work' Approaches to shaping tomorrow world of work, WZB/Hans Boeckler Stiftung. Affiliation: Uni. Potsdam.
01/2017 – 11/2021
Doctorate of Economics and Social Sciences (Dr. rer. pol.), WZB/University of Potsdam. Thesis title: A job is good but is a good job healthier?
09/2014 - 09/2016
Master degree in Sociology and Social Research, University of Trento. Thesis title: Job Loss and Health. Does the Family Make the Difference?
Research Interests
Health inqualities, labour market, sociology of family, gender
Comparative and Life course approaches
Causal inference and modelling, in particular panel models
Publications
Tattarini,G., Grotti,R., Scherer,S., The buffering role of the family in the relationship between job loss and self-perceived health: Longitudinal results from Europe, 2004–2011, Health & Place, Volume 52, July 2018, Pages 55-61. https://doi.org/10.1016/j.healthplace.2018.04.006. (https://www.sciencedirect.com/science/article/pii/S1353829217300412)
Scheuring, S., Voßemer, J., Baranowska-Rataj, A. and Tattarini, G., Does Fixed-Term Employment Have Spillover Effects on the Well-Being of Partners? A Panel Data Analysis for East and West Germany. J Happiness Stud (2021). https://doi.org/10.1007/s10902-020-00353-2
Tattarini, G., Grotti, R., Gender roles and selection mechanisms across contexts: a comparative analysis of the relationship between unemployment, self-perceived health and gender, SHI (2022) https://doi.org/10.1111/1467-9566.13449
Burn, E., Tattarini, G., Williams, L., Lombi, L., Gale, N. K., Women's experience of depression while working from home during the COVID-19 pandemic: Evidence from an international web survey, Front. Sociol. (2022), doi: 10.3389/fsoc.2022.763088