H2POLITICS
Assessing Risks of the German Hydrogen Import Strategy for the Global South  
 
The research project H2POLITICS analyzes the developmental, socio-ecological, technical and economic risks associated with Germany's import-oriented National Hydrogen Strategy in countries of the Global South. In order to close gaps in the renewable energy mix and to achieve the Paris climate goals, green hydrogen (H2), i.e. hydrogen produced with electricity from renewable energy sources, is increasingly being dubbed as the hope of the energy transition. In order to close supply gaps and ensure a sufficient share of green hydrogen in the German energy mix, the National Hydrogen Strategy is targeting countries in the Global South as producers and exporters of green hydrogen. 

Current research programs focus on techno-economic aspects, such as electrolysis processes for hydrogen production, direct hydrogen applications in industry, and export potentials in possible producer countries. There is a lack of studies that examine the premises under which sustainable and developmentally responsible hydrogen production is possible in the Global South.   
Closing this knowledge gap is important for building a global green hydrogen market, which is socially and environmentally just. Based on expertise in energy and development policy as well as engineering science, we explore risks associated with hydrogen production in countries of the Global South and investigate pathways to integrate hydrogen production in a developmentally sensible way and in line with the Sustainable Development Goals.  Furthermore, H2POLITICS investigates which accompanying political measures and international forms of cooperation support must necessarily accompany sustainable hydrogen projects. 

More specifically, the research project H2POLITICS focuses on the following aspects: 
Socio-ecological and developmental risks for green hydrogen production and infrastructure in the Global South
Technical and economic risks and challenges for plant construction and green hydrogen production chains in the Global South 
Policy framework conditions and sustainability criteria for the design of green hydrogen partnerships with actors from the Global South.
Methods and case studies
Within the framework of the German Hydrogen Strategy, agreements and pilot projects are increasingly being launched with countries in the Global South that offer promising locations for green hydrogen production due to their wind- and solar-rich locations. In order to assess the socio-ecological risks mentioned above, country profile analyses of 27 countries in the Global South and life cycle assessments (LCA) on green hydrogen production will be conducted. Qualitative case studies at particularly promising production sites in the frontrunner countries Chile, Morocco, and South Africa will then provide in-depth insights into the socio-ecological risks and challenges of green hydrogen pilot projects in planning, implementation and operation. This is done through scenario workshops and Delphi surveys with local stakeholders. This approach facilitates the identification of opportunities and risks of green hydrogen projects at an early stage. It furthermore allows to formulate recommendations for hydrogen governance in the sense of reflexive or anticipatory governance that will allow green hydrogen partnerships to be aligned with developmental and socio-ecological targets. The project furthermore contributes to strategic foresight by making orientation, system and transformation knowledge available for scientific and policy communities and strengthening the capacity of relevant actors in their analytical and decision-making competence. At the same time, impact assessment procedures are further developed combining established impact assessment tools with socio-ecological approaches and conceptual innovations on energy and hydrogen justice.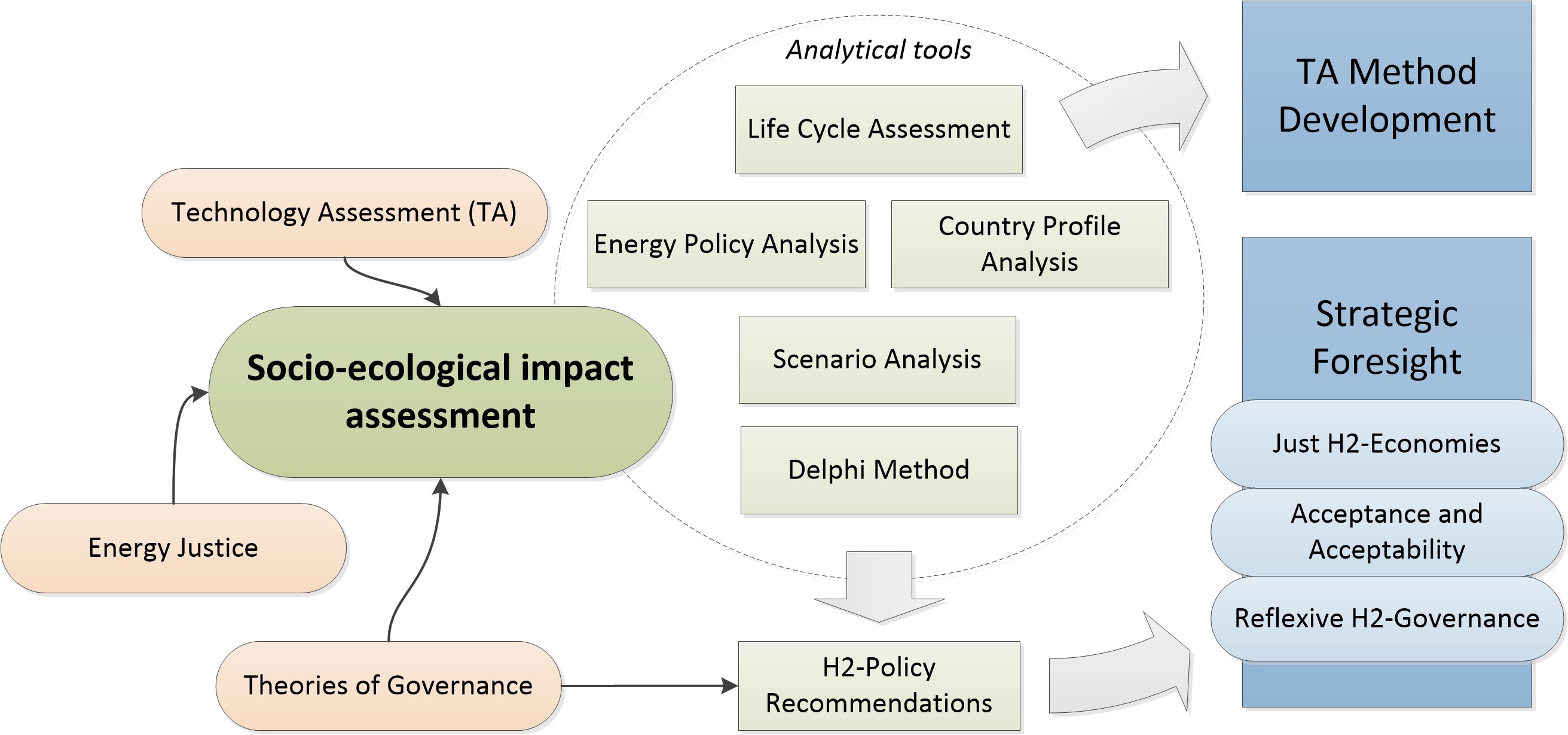 In order to transfer project results, H2POLITICS brings together political and climate scientists from the Climate Cluster of Excellence at the University of Hamburg, engineering scientists from the Fraunhofer Institute for Solar Energy Systems (ISE) and developmental NGOs.