Allgemeine Inhalte
Seminar Contents
With the rise of digitization, consumers, directly and indirectly, interact with businesses and new brands are expanding rapidly. For example, social media enables easy and fast generation, sharing, diffusion and purchasing of various contents among people online (Bach & Kim, 2012), it is changing the business landscape (Rodriguez-Ardura, Martinez-Lopez, & Luna, 2010) and redefining how businesses communicate across several channels of distribution (Ellonen & Kosonen, 2010; Lohtia, Donthu, & Guillory, 2013; Rapp, Beitelspacher, Grewal, & Hughes, 2013). While the attitude, intention, and satisfaction of individuals towards digitalisation have been the focus of researchers, only few research uncovered consumer's behaviour and decisions towards novel technologies using indirect approaches.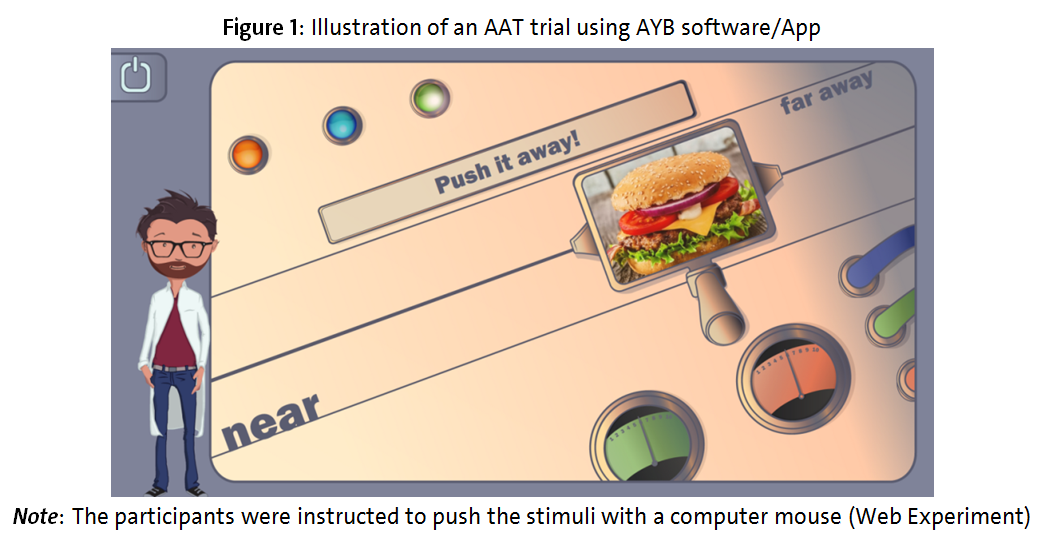 Consumer's attitudes and new product adaption decisions are however based on implicit cognition. Positive stimuli in the environment might produce immediate approach tendencies and negative stimuli might produce instant avoidance action tendencies (Heuer, Rinck, & Becker, 2007; Semmelmann & Weigelt, 2016; Stacy & Wiers, 2010). Regardless of whether we consider them true or false "such associative and automatic evaluations have been termed implicit attitudes" (Prestwich, Hurling, & Baker, 2011, p. 875). In this seminar, we want to assess such behaviour in an experimental setting. Several identical experimental setting can be structured to uncover consumer's unconscious attitudes towards the sustainable environment. The Implicit Association Test (IAT) to measure automatic concept-attribute associations. In addition, the Approach-Avoidance Task (AAT) is based on the finding that stimulus' emotion is related to our psychological element of approach and avoidance (Rinck & Becker, 2007). Compared with other indirect (implicit) measures such as memory association (IAT), and attentional biases, the AAT has unique advantages "because it measures behavioural avoidance tendencies" and even the AAT are valuable additions to direct measures like self-report measure (Heuer et al., 2007). Figure 2 sketch an IAT trial using AYB software/App.
Traditionally, the AAT aim was to reveal automatic tendencies by means of arm movements (Klein, Becker, & Rinck, 2011; Weil, Feist, Moritz, & Wittekind, 2017). To go beyond the traditional AAT, Ask Your Brain (AYB) software/App is developed. Figure 1 depicts an AAT trial showing food-related stimuli using AYB software/App. Therefore, a key objective of this seminar is to provide students with a novel application of AAT in consumer and management field (i.e., application of the AAT to the measurement of individual unconscious tendencies).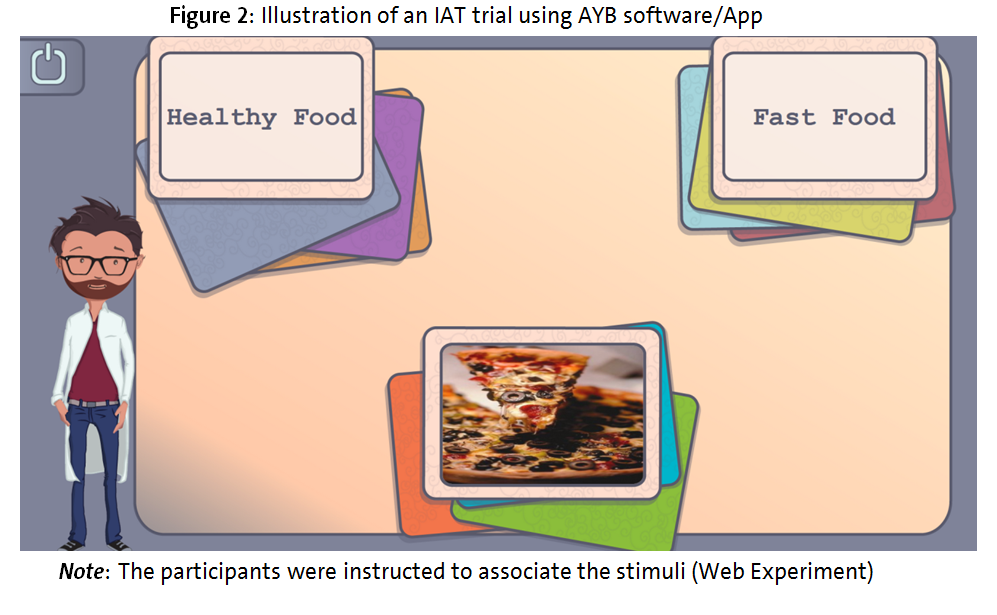 Seminar Setup and Timeline
The seminar allows students to experience a real-life consumer research project using Ask Your Brain (AYB) software/App. Students will be provided with essential guidance on how to use the AYB software/App during the seminar. State-of-the-art measurement instruments will be used to measure consumers´ cognitions (i.e., IAT and AAT). As we work empirically, the seminar is bound to be time-consuming, demanding and challenging. However, it enables students to participate in cutting-edge market research paving the way for Bachelor theses. Our environment is changing quickly and drastically, thus, we want to explore implicit cognitions towards digitization using IAT or AAT measures to explore following topics.
1.        Bitcoin et al:  Currency or Gambling money?
2.      Future: Hope or Fear?
3.      Roboter: Friend or Enemy?
4.      Social Networks: Approach or Avoid?
5.      Social Contacts: real or fiction?
6.      Trust: in companies or in states?
7.      Other topics related to consumer behaviour and digitisations are welcomed!!!
Due to empirical nature of the seminar, it is expected that students are equipped with basic knowledge of data analysis strategies (e.g., descriptive statistics, ANOVA) and primary understanding of statistical software such as STATA. However, students will be provided with required guidance on data coding and analysis during the seminar. Following a mandatory organisational kickoff, the seminar will be held in 5 blocks as depicted in Table 1.

Students will outline the theoretical basis during the third block of the seminar by a short presentation of literature synopsis and their experiment set up. Following the third block, students are expected to begin data collection followed by data coding and analysis (under supervision). In block 5, students are expected to present their empirical findings followed by discussion. Students need to submit their written report for the seminar.   
WICHTIG: Es steht Ihnen frei in englischer oder deutscher Sprache zu präsentieren und zu schreiben. Wir empfehlen dieses Seminar auf Englisch zu absolvieren, um besser auf die Berufswelt vorbereitet zu sein, wo Englisch gängiger Standard ist. In diesem Seminar wird explizit nicht der Umgang mit der Sprache bewertet, sondern lediglich die Inhalte. Dieses Seminar bietet neben seinen spannenden inhaltlichen Themen somit auch die Möglichkeit, sich besser auf die berufliche Praxis vorzubereiten. Aus der Teilnahme auf Englisch wird Ihnen kein Nachteil entstehen.
Grading information
Passing the seminar requires the following:
·        Presentation on theoretical foundation
·        Final presentation of findings
·        Written report on the own empirical study
Each part has to be passed at least with a 4.0 in order to pass this course.
Required reading- Foundations of implicit cognition
Gabrieli, J. D. E. (1999). The architecture of human memory. In: J.K. Foster & M. Jelicic (Eds), In Memory: Systems, Process or Function?. Oxford: Oxford University Press, 205–231.
Kahneman, D. (2003), Maps of bounded rationality: Psychology for behavioral economics, The American economic review, 93, 1449-1475.
Stacy, A. W., & Wiers, R. W. (2010). Implicit cognition and addiction: a tool for explaining paradoxical behavior. Annual Review Of Clinical Psychology, 6, 551-575.
Perkins, A., Forehand, M., Greenwald, A. G. and Maison, D. (2008), "The influence of implicit social cognition on consumer behavior: Measuring the non-conscious," In C. Haugtvedt, P. Herr & F. Kardes (Eds.), Handbook of Consumer Psychology (pp. 461-475). Hillsdale, NJ: Lawrence Erlbaum.
Literature and Sources
Bach, S. B., & Kim, S. (2012). Online Consumer Complaint Behaviors: The Dynamics of Service Failures, Consumers' Word of Mouth, and Organization-Consumer Relationships. International Journal of Strategic Communication, 6(1), 59-76.
Ellonen, H.-K., & Kosonen, M. (2010). Treat your customers as equals! Fostering customer collaboration through social media. International Journal of Electronic Marketing and Retailing, 3(3), 221-240. doi: 10.1504/IJEMR.2010.03483
Heuer, K., Rinck, M., & Becker, E. S. (2007). Avoidance of emotional facial expressions in social anxiety: The Approach-Avoidance Task. Behav Res Ther, 45(12), 2990-3001. doi: 10.1016/j.brat.2007.08.010
Klein, A. M., Becker, E. S., & Rinck, M. (2011). Approach and Avoidance Tendencies in Spider Fearful Children: The Approach-Avoidance Task. J Child Fam Stud, 20(2), 224-231. doi: 10.1007/s10826-010-9402-7
Lohtia, R., Donthu, N., & Guillory, M. D. (2013). The impact of advertising, trustworthiness, and valence on the effectiveness of blogs. International Journal of Electronic Marketing and Retailing, 5(4), 317-339. doi: 10.1504/IJEMR.2013.060264
Prestwich, A., Hurling, R., & Baker, S. (2011). Implicit shopping: attitudinal determinants of the purchasing of healthy and unhealthy foods. Psychol Health, 26(7), 875-885. doi: 10.1080/08870446.2010.509797
Rapp, A., Beitelspacher, L. S., Grewal, D., & Hughes, D. E. (2013). Understanding social media effects across seller, retailer, and consumer interactions. Journal of the Academy of Marketing Science, 1-20.
Rinck, M., & Becker, E. S. (2007). Approach and avoidance in fear of spiders. Journal of behavior therapy and experimental psychiatry, 38(2), 105-120.
Rodriguez-Ardura, I., Martinez-Lopez, F. J., & Luna, P. (2010). Going with the consumer towards the social web environment: a review of extant knowledge. International Journal of Electronic Marketing and Retailing, 3(4), 415-440. doi: 10.1504/IJEMR.2010.036885
Semmelmann, K., & Weigelt, S. (2016). Online psychophysics: reaction time effects in cognitive experiments. Behav Res Methods. doi: 10.3758/s13428-016-0783-4
Stacy, A. W., & Wiers, R. W. (2010). Implicit cognition and addiction: a tool for explaining paradoxical behavior. Annual review of clinical psychology, 6, 551-575.
Weil, R., Feist, A., Moritz, S., & Wittekind, C. E. (2017). Approaching contamination-related stimuli with an implicit Approach-Avoidance Task: Can it reduce OCD symptoms? An online pilot study. J Behav Ther Exp Psychiatry, 57, 180-188. doi: 10.1016/j.jbtep.2017.05.007
---