Dr. Stefanie Pakura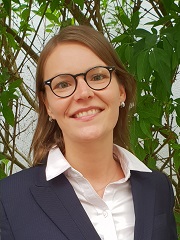 Foto: UHH
Habilitandin
Professur für BWL, insbesondere Digitale Märkte
Anschrift
Universität Hamburg
Fakultät für Wirtschafts- und Sozialwissenschaften
Sozialökonomie
Betriebswirtschaftslehre
Von-Melle-Park 9
20146 Hamburg
Büro
Raum: B531
Kontakt
Short Bio
Stefanie Pakura is a postdoctoral researcher and lecturer at the Chair of Management & Digital Markets at the University of Hamburg. Before joing University of Hamburg in October 2015, she worked as a doctoral candidate and research assistant at the Department of Entrepreneurship and Start-Up Management at Leuphana University, where she received her PhD in Management after having completed her thesis on "Empirical research in entrepreneurship. Essays on entrepreneurship and early development of new ventures based on data from the German Start-Up Panel of North Rhine-Westphalia (Start-Up Panel NRW)".
Prior to that, Stefanie Pakura studied at the University of Cologne and Leuphana University of Lüneburg, where she was also involved in teaching at the Chair of Statistics and Liberal Professions (FFB). Following a research visit at the Research Infrastructure 'Socio-Economic Panel' (SOEP) of the German Institute for Economic Research (DIW) in Berlin, she completed her studies in business and economics at Leuphana University of Lüneburg with a thesis on small and medium-sized start-ups and was awared the degree of Diplom-Kauffrau. At the same time she worked as a research assistant at the Centre for Entrepreneurship in Theory & Application in Lüneburg.
Research Interests
Her current research interests are at the intersection of the research streams on entrepreneurship, SMEs, crowdfunding,  gender, innovation, digital markets and gamification. She is interested in Data Analyses, Big Data and Statistics.
Reviewer
Ad-hoc reviewer for International Journal of Entrepreneurial Venturing (IJEV), Academy of Management (AOM), Zeitschrift für KMU und Entrepreneurship (ZfKE), Business Administration Review (BARev)/Die Betriebswirtschaft, European Academy of Management (EURAM), Family Enterprise Research Conference (FERC).
Visiting Researcher 
Silicon Valley
Chair of Marketingand Entrepreneurship, Menlo College
September 2018 - October 2018
University of Southern Denmark
The Mads Clausen Institute SDU Technology Entrepreneurship and Innovation
August 2017 - October 2017 
News
Emerald Literati Awards
Our article has been selected by the editorial team as highly commended in the 2018 Emeral Literati Awards.
"Revisited: how gender role stereotypes affect the image of entrepreneurs among young adults" published in International Journal of Gender and Entrepreneurship.
Feel free to enjoy and share: https://www.emeraldinsight.com/doi/abs/10.1108/IJGE-07-2017-0031
---