MIBAS Debates on CSR
As program director of the "International Business and Sustainability" (MIBAS) masters program Prof. Geiger's ambition is to offer a variety of diverse courses and constantly improve the program's outline. In addition to classical lectures MIBAS students regularly organize the panel discussion event "MIBAS Debates on CSR". It offers students and guests the possibility to critically discuss the latest challenges concerning Corporate Social Responsibility with leading experts from business, politics, civil society and science in an informal relaxed atmosphere.
Next MIBAS Debate:
SUSTAINABLE SOURCING - MISSION (IM)POSSIBLE?
The students of the Master International Business & Sustainability (MIBAS) invite you to join the 14th debate on CSR.
Sustainable sourcing has never been more important: Supply chains continue to expand globally into developing countries seeking lower costs and greater production capacity, exposing companies to an ever wider array of risks. Sourcing sustainably opens up opportunities for innovation, helps secure our supplies, and reduces risk and volatility in our raw material supply chains. Now, the ultimate goal of sustainable sourcing is to build strong, long-term relationships with suppliers. Working toward this has become an extension of the company's commitment to corporate responsibility. But how exactly can a company effectively manage the supply chain especially in sectors where production is mainly outsourced such as food and clothing? This will be discussed, when students of the MA International Business & Sustainability, together with leading experts under the leadership of Prof. Dr. Geiger explore the topic "Sustainable Sourcing".
Guests:
- Sonja König, Head of Corporate Responsibility, Neumann Kaffee Gruppe GmbH
- Jochen Michalak, Head of Legal Department, Neumann Kaffee Gruppe GmbH
- Anna Rüchardt, Project Manager Marketing & Communication, Cotton made in Africa
- Andreas Zamostny, Managing Partner, Schlange & Co GmbH
Date: Tuesday, Nov 28th 2017 - doors open at 18:00, debate starts at 18:30
Place: Hamburg University Guesthouse, Rothenbaumchaussee 34, 20148 Hamburg
Entry: Free
Language: English
After the debate we will have a get-together with snacks and drinks.
We're happy to welcome MIBAS students, alumni, students and members of the University of Hamburg as well as friends and all other interested people!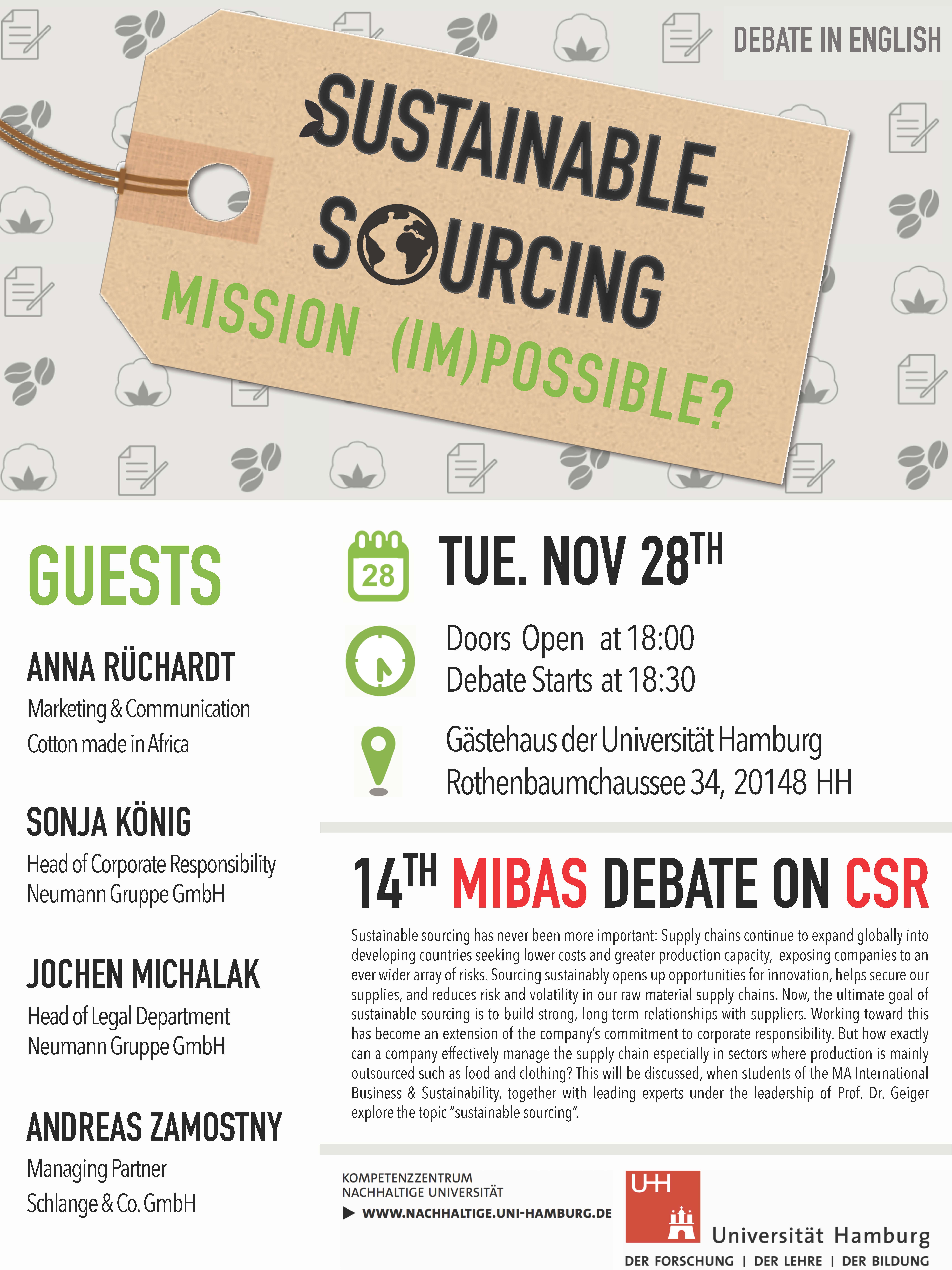 ---