Sarah Carroux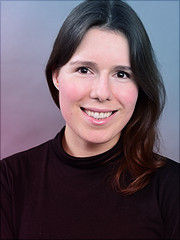 Doctoral Researcher
Anschrift
Universität Hamburg
Rentzelstraße 7
20146 Hamburg
Büro
Raum: 409
Kontakt
Research interests
Sustainable finance with a strong focus on impact investing
Business Case for Sustainability
Sustainable Business Models
Short bio
After graduating from high school, Sarah, who is a German native, moved to Northampton, Massachusetts, to study economics and political science at Smith College. In her senior year of college, Sarah was appointed by Smith College's president to the Advisory Committee on Investor Responsibility (ACIR). This committee advises Smith College's Investment Committee on issues relating to social responsibility and the college endowment. Specifically, through its activities, the ACIR helps ensure that the college endowment is used for investments that are aligned with the college's mission and values. Even though the term "impact investing" was not coined by Jed Emerson until 2008, you could say that in her role as a student representative on this special committee in that same year, Sarah was first exposed to impact investing. Unbeknownst to her at the time, almost a decade later, impact investing is the focus of Sarah's dissertation.
In addition to her role as a doctoral researcher at the Chair of Management and Sustainability, Sarah is the acting Energy Officer of the School of Business, Economics and Social Sciences (WiSo). Together with other members of the WiSo Energy Team, Sarah defines and executes measures to help foster energy efficiency at the WiSo-School.
After earning her Bachelor's degree, Sarah gained four years of the work experience, predominantly in Germany in the field of product management. Sarah holds a Master of Arts in International Business and Sustainability (MIBAS) from the University of Hamburg. When she is not trying to help save humanity from its self-destruction, Sarah enjoys vegan baking, traveling the globe and attending concerts.
Publications
Lüdeke-Freund, F., Carroux, S., Joyce, A., Massa, L., & Breuer, H. (2018). The sustainable business model pattern taxonomy—45 patterns to support sustainability-oriented business model innovation. Sustainable Production and Consumption 15, 145-162. Abstract