Ana Soares, M.A.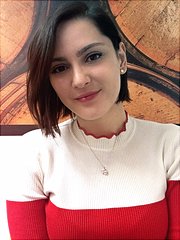 Foto: Ana Soares
Doktorandin Prof. Dr. Wiener (seit Oktober 2018)
Anschrift
Universität Hamburg
Fakultät für Wirtschafts- und Sozialwissenschaften
Sozialwissenschaften
Politikwissenschaft
Kontakt
The Kinetic Power of Transformation: a study about the securitization theory and the change of normative meaning-in-use
My proposal - which follows an interdisciplinary approach drawing on critical constructivist and post-structuralism - stems from problematic topics encountered in the Copenhagen School's Securitization Theory scholarship and its developments. Securitization has evolved throughout the last decades: from the understanding of the modus operandi of existing security actors reproducing an exclusionary structure, to a cause-and-effect dynamic of social construction of threats.  The current Securitization Theory rejects the separation of security and politics, and agrees that security discussions devoid of political games are not feasible in social reality. The process of securitization entails the actor's responsibility for the consequences of security actions. Therefore, it is possible to affirm that the ST is an overtly political theory, which evokes a transformational power in the realm of security practices. There is, however, a clash of ontologies among the different approaches to the theory, being two of them the political and sociological approaches. Differently from the original theory, the sociological and political interpretations of the ST see the outcome of securitization as extraordinary politics – transforming social structures – instead of exceptional means of resolution.
Given these points, my dissertation will not focus on the exceptionality of security policies, but on the behavioral changes of securitizing actors concerning norms and institutions. This work will also introduce the concept of kinetic power of change by revising and criticizing the polarization of the current literature. It will represent the potential of securitization as a norm-resignifying process to build agency (identifying the audience) and to influence structures, not only after a successful attempt of securitization, but since the utterance of the speech itself. The aim of this work is to develop a structured notion of the political and sociological approaches to the ST, as well as to stress the relevance of securitization's transformational power to generate agency and change normative meaning-in-use.
Research Topics
Political Philosophy
Theory of International Relations
Security Studies
Conflict Resolution and Peacebuilding
Human Rights
Publications
Compartilhando a Democracia: o papel das midias sociais no processo de securitização da Primavera Árabe (Sharing Democracy: the role of social medias in the securitization of the Arab Spring) in: RIC – Revista de Iniciação Científica em Relações Internacionais, Vol 2, n. 3 (2014). Available here.
"Human Rights for Righteous Humans": The Influence of Brazilian Conservatism on the National Perception of Human Rights. COJOURN, Vol 3, n. 2 (October 2018). Available here.
---