Dr. Martin Welz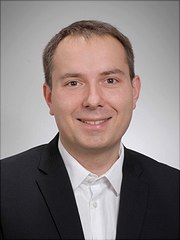 Foto: privat
Wissenschaftlicher Mitarbeiter
Politikwissenschaft, insb. Internationale Beziehungen
Anschrift
Universität Hamburg
Fakultät für Wirtschafts- und Sozialwissenschaften
Sozialwissenschaften
Politikwissenschaft
Allende-Platz 1
20146 Hamburg
Büro
Raum: 208
Kontakt
Wissenschaftlicher Werdegang
Martin Welz beschäftigt sich mit internationalen Organisationen, insbesondere mit der Afrikanischen Union und den Vereinten Nationen, inter-organisationalen Beziehungen im Kontext Friedensoperationen, Global Governance, Afrikas Einfluss auf globale Ordnungen, den Auswirkungen der Dekolonisation und dem Internationalen Strafgerichtshof.
Er studierte Politik- und Verwaltungswissenschaft (B.A.) an der Universität Konstanz und der University of Pretoria, Südafrika, und International Relations (M.Sc.) an der London School of Economics and Political Science. Zwischen 2007 und 2019 war er wissenschaftlicher Mitarbeiter an der Universität Konstanz. Martin Welz promovierte 2011 mit der Dissertation "The African Union: Integration vs. Sovereignty", die 2012 bei Routledge erschien. 2015 war er Visiting Scholar an der School of International and Public Affairs der Columbia University, New York und von Oktober 2015 bis September 2017 vertrat er die Professur für Internationale Organisationen und Globalisierung an der Friedrich-Schiller-Universität Jena.
Seit Oktober 2019 forscht und lehrt er an der Universität Hamburg zu den oben genannten Themen und schreibt ein Buch zur afrikanischen Geschichte und Politik, das 2020 bei Cambridge University Press und Kohlhammer erscheinen wird.
Publikationen
Monographien
Welz, Martin 2012: Integrating Africa: decolonization's legacies, sovereignty and the African Union. London: Routledge.
Artikel mit peer-review
Welz, Martin 2019 (online  first): Lock-in eff ects, benefi ts, and delegation chains: the African Union's relations with its member states through a principal-agent perspective. Cambridge Review of International Aff airs.
Gelot, Linnéa & Martin Welz 2019: Pragmatic eclecticism, neoclassical realism, and post-structuralism: reconsidering the Libyan crisis of 2011, Third World Quarterly Vol. 39(12), 2334-2353.
Melber, Henning, Daniela Kromrey & Martin Welz 2017: Changing of the guard? An anatomy of power within SWAPO of Namibia, African A ffairs Vol. 116(463), 284-310.
Welz, Martin 2016: Multi-actor peace operations and inter-organizational relations: insights from the Central African Republic, International Peacekeeping Vol. 23(4), 568-591.
Weiss, Thomas G. & Martin Welz 2015: Military twists and turns in world politics: downsides or dividends for UN peace operations?, Third World Quarterly Vol. 36(8), 1493-1509.
Welz, Martin & Daniela Kromrey 2015: Legacies of the past: the in uence of former freedom fi ghters and their rhetoric in Southern Africa, Politikon: South African Journal of Political Studies Vol. 42(2), 255-273.
Welz, Martin 2014: Briefi ng: crisis in the Central African Republic and the international response, African A ffairs Vol. 113(453), 601-610.
Welz, Martin 2014: A 'culture of conservatism': How and why African Union member states obstruct the deepening of integration, Strategic Review for Southern Africa Vol. 36(1), 4-24.
Weiss, Thomas G. & Martin Welz 2014: The UN and AU in Mali and beyond, a shotgun wedding? International A airs Vol. 90(4), 889-905.
Welz, Martin 2013: The African Union beyond Africa: explaining the limited impact of Africa's continental organization on global governance, Global Governance Vol. 19(3), 425-441.
Welz, Martin 2010: Zimbabwe's 'Inclusive Government': some observations on its  first 100 Days, The Round Table Vol. 99(411), 607-621; auch erschienen in Stephen Chan und Ranka Primorac (Hrsg.) Zimbabwe since the Unity Government. London und New York: Routledge, 5-20. 
Welz, Martin & Julian Junk 2009: Zimbabwe still at the crossroads? Domestic stalemate, regional appeasement, and international half-heartedness, Sicherheit und Frieden - Security and Peace Vol. 27(3), 185-194. 
Buchkapitel
Welz, Martin (2019 im Erscheinen): Non-impunity, the international criminal court and the African Union: exploring the borderland of the international orders related to non-impunity. In Katharina P. Coleman, Markus Kornprobst & Annette Seegers (Hrsg.) Orders of Africa, Orders of the World: How Diplomats Navigate Borderlands. London: Routledge.
Welz, Martin 2019: Rapid response and inter-organizational competition: four international organizations, two key states, and the crisis in the Central African Republic. In John Karlsrud & Yf Reykers (Hrsg.) Multinational rapid response mechanisms: Inter-organizational cooperation and competition. London: Routledge, 114-132.
Welz, Martin 2018: Cooperation and competition: United Nations-African Union relations. In Stephen Aris, Aglaya Snetkov & Andreas Wenger (Hrsg.) Inter-organisational relations in international security: competition and cooperation. London: Routledge, 54-69.
Welz, Martin 2016: The roles of the African Union and its member states in managing migration across the Mediterranean. In Francesca Ippolito & Seline Trevisanut (Hrsg.): Migration in the Mediterranean: mechanisms of international cooperation. Cambridge: Cambridge University Press, 9-22.
Welz, Martin 2013: Uganda and the East African Community: economic imperatives, president Museveni, and his ambitions. In Ulrike Lorenz & Martin Rempe (Hrsg.) Mapping agency: comparing regionalisms in Africa. Farnham: Ashgate, 97-111.
Welz, Martin 2013: From non-interference towards non-indi erence: the ongoing paradigm shift in the African Union. In Ulf Engel & João Gomes Porto (Hrgs.) Towards an African peace and security regime: continental embeddedness, transnational linkages, strategic relevance. Farnham: Ashgate, 31-52.   
Kurzbeiträge
Welz, Martin & Angela Meyer 2014: Empty acronyms: why the Central African Republic has many peacekepers, but no peace, Foreign A airs  Online (24. Juli 2014), http://www.foreignaff airs.com/print/138767.
Welz, Martin 2009: Mauritius: Eine Erfolgsgeschichte, Afrika Süd Vol. 38(6), 35-37.
Welz, Martin 2009: Zum Scheitern verurteilt: Zur neuen Regierung in Zimbabwe, Afrika Süd Vol. 38(2), 17-18.                      
Buchbesprechungen
Welz, Martin 2017: Buchbesprechung zu Making sense of the Central African Republic von Tatiana Carayannis & Louisa Lombard (Hrsg.).African A airs Vol. 116(462), 155-157.
Welz, Martin 2017: Buchbesprechung zu The African Union: the fi rst ten years von Omar Alieu Touray. The Journal of Modern African Studies Vol. 55(3), 512-513.
Welz, Martin 2013: Buchbesprechung zu Liberation movements in power: party and state in Southern Africa von Roger Southall. Afrika Süd Vol. 42(4), 37-38.
---