Dr. Radhika Mittal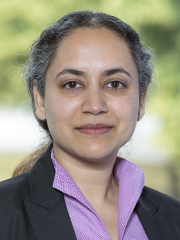 Wissenschaftliche Mitarbeiterin und Projektkoordinatorin
Kommunikationswissenschaft, insbes. Klima- und Wissenschaftskommunikation
Anschrift
Universität Hamburg
Fakultät für Wirtschafts- und Sozialwissenschaften
Sozialwissenschaften
Journalistik und Kommunikationswissenschaft
Postadresse: Allende-Platz 1
20146 Hamburg
Büro
Büro: Von-Melle-Park 9 (A)
Raum: 408
Kontakt
Portrait
Radhika Mittal ist seit April 2018 als wissenschaftliche Mitarbeiterin im Team von Prof. Dr. Michael Brüggemann an der Fakultät für Wirtschaft- und Sozialwissenschaften. Sie koordiniert und entwickelt ein interdisziplinäres Projekt mit dem Titel: Sustainable Lives: Food Choices as Politics and Lifestyle. Das Projekt wird verschiedene und breitgefächerte  Pilotstudien vereinen. Ziel ist es, herauszufinden, wie sich eine Gesellschaft - unter dem Blickwinkel der Nachhaltigkeit - mit klimafreundlichen Nahrungsmitteln auseinandersetzt, sie wahrnimmt, einordnet und sich dafür oder dagegen entscheidet. Zu unserer Studie finden Sie weitere Informationen auch unter climatematters.
Ihr Forschungsinteresse umfasst u. a. 
Vermittlung von nachhaltigen Lebensstilen
Klimawandel und Risikokommunikation
Politische Kommunikation
Journalismusforschung und Nachhaltigkeitskommunikation
Curriculum Vitae
Wissenschaftlicher Werdegang
2009 - 2013

Promotion in Soziologie (PhD)
Macquarie Universität, Sydney, Ausstralien

2006 - 2008

M. A. in Journalism, Media and Globalisation
Erasmus Mundus - Gemeinsamer M. A.
Universität Hamburg
University of Amsterdam, Niederlande
University of Aarhus, Dänemark

2001 - 2003
Master of Mass Communication (M.A. Journalism)
Symbiosis Institute of Mass Communication, Pune, India

1998 - 2001

Bachelor - Commerce and Economics (B.Com)
Sydenham Collecge of Commerce and Economics, Mumbai, India
Beruflicher Werdegang
 Seit April 2018


Wissenschaftliche Mitarbeiterin und Projektkoordinatorin
an der Professur für Kommunikationswissenschaft, insbes. Klima- und Wissenschaftskommunikation
von Prof. Dr. Michael Brüggemann - Universität Hamburg
2016 -  2017
Mitarbeiterin und Lehrkraft
Lal Bahadur Shastri National Academy of Administration, Mussoorie, India
2015
Lehrbeauftragte (Adjunct Faculty) at TERI University, Jamia Millia Islamia, and IIT-Delhi
2013 – 2014
Assoziierte wissenschaftliche Mitarbeiterin
The Energy and Resources Institute, New Delhi, India
2005 - 2006
Leitende Redakteurin und Korrespondentin
The Times of India, Mumbai, India
2004
Leitende Texterin
Vyas Giannetti Creative Pvt. Ltd., Mumbai, India
2002 - 2003
Redakteurin
The Indian Express, Pune, India
Stipendien und Preise
      2014       
Travel Award, International Association for Media and Communication
Research (IAMCR), Annual Conference
2012
Macquarie University Postgraduate Forschungsfond
  2010 - 2013   
Macquarie University Excellenzforschungs-Stipendium
2009
Stipendium der Innovative Universities der Europäischen Union
2006 - 2008
European Commission's Erasmus Mundus Stipendium
2001 - 2003
Leistungsbezogener Studiengebühren-Erlass
Symbiosis Institute of Mass Communication
    2001   
Certificate of Merit, (höchtste Auszeichnung)  Mass Communication,
Sydenham College
Publikationen und Vorträge
I. Artikel
Mittal, R. (2012). Climate change coverage in Indian print media: a discourse analysis. The International Journal of Climate Change: Impacts and Responses, 3(2), 219-232. (http://www.researchonline.mq.edu.au/vital/access/manager/Repository/mq:20841/DS01)
II. Buchkapitel
Mittal, R. (2015). Teaching Journalism for Sustainable Development, in Banda, F. (Ed.) Teaching Journalism for Sustainable Development: New Syllabi (2nd Ed. UNESCO Series on Journalism Education) (pp. 29-38). Paris, France: UNESCO.
(http://unesdoc.unesco.org/images/0023/002338/233878e.pdf)
Mittal, R. (2014). The environmental impact of unsustainable food practices: a review, in Sustainable Consumption, Climate Change and Consumers - Towards a Better Future, (edited volume published by Centre for Consumer Studies, Indian Institute of Public Administration, New Delhi)
III. Peer-reviewte Konferenzpaper
Mittal, R. (2015, February). Consuming the environment? Missing media narratives on food and climate change. Peer-reviewed paper presented at international conference 'India at Leisure: Media, Culture and Consumption in the New Economy' organised by Jamia Millia Islamia, India and University of Waikato, New Zealand, in Delhi, India
Mittal, R. (2014, July). Local food through the mediated lens of environmental sustainability. Peer-reviewed paper presented at the International Association for Media and Communication Research (IAMCR) annual conference, in Hyderabad, India
Mittal, R. (2012, August). Newspaper portrayals of climate-friendly, plant-based food practices: The New York Times and The Australian. Peer-reviewed paper presented at the Association for Education in Journalism & Mass Communication (AEJMC) annual conference, in Chicago, USA
IV. Boulevarpresse (Autorenschaft und Berichterstattung)

Mittal, R. (2016, May launch issue). Veganism – The Environmental Imperative. Australian Vegans Journal. Retrieved from https://chuffed.org/project/australian-vegans
Mittal, R. (2015, March 19). With Heat On Pachauri, Climate Issues Left Out In The Cold. The Huffington Post. Retrieved from http://www.huffingtonpost.in/radhika-mittal/with-heat-on-pachauri-cli_b_6884364.html
Mittal, R. (2014, August 15). Climate change – what's that? The Hindu Business Line. Retrieved from http://www.thehindubusinessline.com/opinion/climate-change-whats-that/article6321561.ece
IV. Ausgewählte Vorträge
Workshop on Strategic Communication for National Informatics Centre scientists at IIT-Delhi, New Delhi, India, December and February 2018
Guest Lectures on Media Engagement and Public Speaking at the Assam Administrative Staff College, Government of Assam, Guwahati, India, 9th November 2017
Panelist at Indo-German Symposium on Science Communication: Bringing Science to People at the German Embassy, New Delhi, India, 7th November 2017
Lecture on Framing climate-friendly food practices: Evidence of dispossessed discourses from USA, Australia and India at the Cluster of Excellence 'Integrated Climate System Analysis and Prediction' (CLiSAP) – CRG: Media Constructions of Climate Change, University of Hamburg, Hamburg, Germany, 19th-20th December, 2016
Lecture on Framing Climate Change: A Global Snapshot and the Indian Experience at IIT-Mandi, Himachal Pradesh, India, 11th March, 2016
Keynote Talk on Climate Change: Constructing the Conversation at Valedictory Function of National Training Programme on Climate Change News Coverage for Aspiring and Young Vernacular Media Persons, Madurai Kamraj University, School of Linguistics and Communication, supported by Earth Journalism Network and Internews, USA, Madurai, India, 29th January, 2016
 Public talk on What the media don't tell you: Busting food myths for SHARAN (Sanctuary for Health and Reconnection to Animals and Nature), Delhi, 14th February, 2016 and 14th December, 2014
Moderator, Climate and Energy Panel, India + SocialGood Summit, The UN Foundation, Mumbai, India, 9th April 2014
Moderator, Release of the IPCC 5th Assessment Report, Working Group II, by The UN Foundation, Delhi, India, 31st March 2014
Panelist, Communicating Sustainable Consumption and Production, Sustainable Consumption and Production, panel at TERI's Delhi Sustainable Development Summit, Delhi, 5th Feb 2014
Plenary Speaker, Climate Change Coverage in Indian Print Media, The Second International Conference on Climate Change, University of Queensland, Brisbane, Australia, 8-10th July 2010
---