Katharina Kleinen-von Königslöw in DKK Video Series "Real Science, Real Talk"
"We also need someone like Christian Drosten for climate change"
22 October 2020, by CSS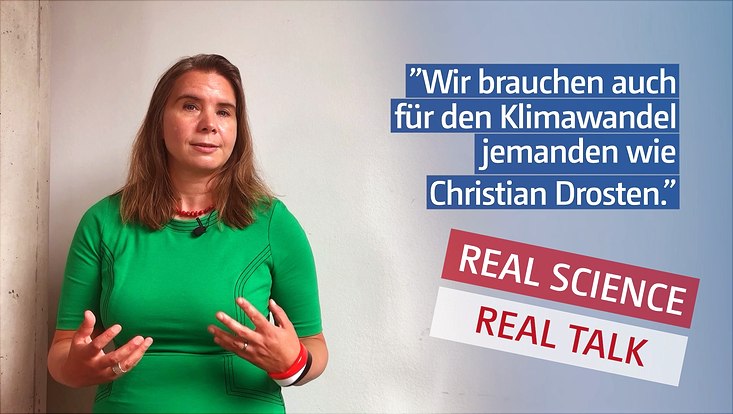 Photo: DKK
A contribution by CSS member Prof. Dr. Katharina Kleinen-von Königslöw in the DKK Video-Series "Real Science, Real Talk" has premiered today on Youtube.
Prof. Dr. Katharina Kleinen-von Königslöw researches communication on climate change. Since the beginning of the pandemic, she has also been observing how we inform ourselves about Corona. Her assessment: We are ready for fundamental changes if they are explained in a comprehensible way.
The corona pandemic has suddenly changed our everyday life. For climate research, however, the lockdown also made unexpected experiments possible. Fewer emissions, changed mobility and political crisis management - all opportunities to collect and evaluate new data. In a new video series, 18 experts from the German Climate Consortium (DKK) reflect their very different findings in a flash.
Real Science, Real Talk
Science about Climate and Corona
Short-time work, blue skies without contrails, video conferencing, bicycle boom - the Corona pandemic has radically broken our routines, politicians have taken comprehensive measures, the economy and each and every individual is struggling with the consequences. What do these changes mean for climate change and climate policy? This is what researchers at the member institutions of the German Climate Consortium (DKK) are investigating. 18 of them report their observations and assessments in the new video series "Real Science, Real Talk - Science on Climate and Corona".
The Corona crisis is a great experiment for the atmosphere and our society and the lockdown is a tool to gain new insights: Atmosphere researchers measure whether and why the air in the Rhineland or in China, for example, has improved. They explain how much CO2 emissions have fallen and why the CO2 content of the atmosphere continues to rise despite this. Social scientists and humanities scholars are using the pandemic to study the traffic turnaround in real experiments, to observe our society in a crisis situation and to improve science communication. Political and economic experts emphasize the importance of combining economic aid with climate protection and ambitiously driving forward the European Green Deal. One thing is clear: the short window of opportunity to keep the climate crisis manageable should be used.
---