Yuka Matsuo, M.A.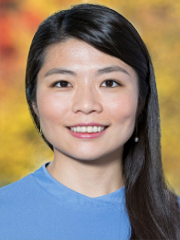 Photo: UHH, RRZ/MCC, Mentz
Research Associate
Chair of Public Management
Address
Universität Hamburg
Faculty of Business, Economics and Social Sciences
Socioeconomics
Business Administration
Von-Melle-Park 9
20146 Hamburg
Office
Room: B239
Contact
CV
Yuka Matsuo has been working as a doctoral researcher at the Chair of Public Management at Universität Hamburg since July 2018. Her research project LegiP, which is funded by the German Research Foundation (DFG), is titled 'Legitimation of Cross-Sector Partnerships: Actor Strategies Within the Institutional Complexity of State, Economy, and Civil Society'. LegiP is a joint project with Leibniz Universität Hannover and Helmut-Schmidt-Universität Hamburg.
She holds a Bachelor's degree in International Relations and Business from the International Christian University Tokyo, Japan, and a Master's degree in International Business and Sustainability from Universität Hamburg. During her studies, Yuka specialized in social sustainability and corporate social responsibility. After graduating in 2017,  she worked for an auditing firm specializing in the financial compliance of European state-aid projects.
Research and Teaching
Research
Cross-Sector Partnerships
Institutional Theory
Organizational Legitimacy
Teaching
WiSe 2020/21: MSc PUNO - The Age of Alliances: An Introduction to Cross-sector Partnerships (seminar)
Publications
Willems, J., Waldner, C. J., Dere, Y I., Matsuo, Y. & Högy, K. (2017). 'The role of formal third-party endorsements and informal self-proclaiming signals in nonprofit reputation building.' Nonprofit and Voluntary Sector Quarterly, 46(5): 1092–1105. DOI: 10.1177/0899764017720770.