David Hensel, Dipl.-BWL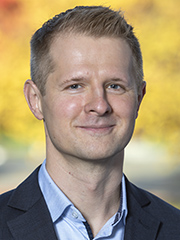 Photo: UHH, RRZ/MCC, Mentz
Postdoctoral Researcher
Chair of Public Management
Address
Universität Hamburg
Faculty of Business, Economics and Social Sciences
Socioeconomics
Business Administration
Von-Melle-Park 9
20146 Hamburg
Office
Room: B237
Contact
CV
David Hensel has been working as a postdoctoral researcher at the Chair of Public Management at the University of Hamburg since January 2021. His research project ICThos, which is funded by the German Research Foundation (DFG), is titled 'Implicit Citizenship Theories: Content and Structure, Conditions and Consequences of Implicit Conceptions in the Public Sector'.
He completed his Diplom degree in Business with a focus on Marketing and Market Research at Universität Hamburg. After his studies, he gained practical experience in the area of market research. He then worked in research as a project manager ('Trend research for optimizing and securing the Bundeswehr's personnel requirements' and 'Youth study 2015', funding: Ministry of Defence) and in teaching at the Institutes of Marketing, Personnel and Labor at Helmut Schmidt University. His dissertation entitled 'Application of Neuroscientific Methods to Organizational Behavior and Public Management' at the Institute of Marketing at Helmut Schmidt University is about to be successfully completed.
Research and Teaching
Research
Implicit citizenship theories
Dual-process-theories of judgment and information processing
Implicit measurement methods
Publications
Journal Articles
Asseburg, J., Hattke, J., Hensel, D., Homberg, F. & Vogel, R. (2020). 'The tacit dimension of public sector attraction in multi-incentive settings.' Journal of Public Administration Research and Theory, 30(1): 41-59.
Hattke, F., Hensel, D. & Kalucza, J. (2019). 'Emotional responses to bureaucratic red tape.' Public Administration Review, 80(1): 53-63.
Hattke, F., Hensel, D. & Kalucza, J. (2019). 'Emotional responses to bureaucratic red tape.' Academy of Management Best Paper Proceedings, 2019(1).
Znanewitz, J., Braun, L., Hensel, D., Fantapié Altobelli, C. & Hattke, F. (2018). 'A critical comparison of selected implicit measurement methods.' Journal of Neuroscience, Psychology, and Economics, 11(4): 249-266.
Hensel, D., Iorga, A., Wolter, L. & Znanewitz, J. (2017). 'Conducting neuromarketing studies ethically - practitioner perspectives.' Cogent Psychology, 4(1): 1-13.
Fantapié Altobelli, C., Znanewitz, J. & Hensel, D. (2015). 'Trendforschung.' Wisu - Das Wirtschaftsstudium, 44(5): 564-568.
---
Book Chapters
Fantapié Altobelli, C. & Hensel, D. (2018). 'Ethik als Qualitätsmerkmal in der neurowissenschaftlichen Marktforschung.' In B. Keller, H.-W. Klein & T. Wirth (Hrsg.), Qualität und Data Science in der Marktforschung: 61-80. Wiesbaden: Springer.
Hensel, D., Wolter, L. & Znanewitz, J. (2016). 'A guideline for ethical aspects in conducting neuromarketing studies.' In A. R. Thomas, N. A. Pop, A. M. Iorga & C. Ducu (Hrsg.), Ethics and Neuromarketing – Implications for Market Research and Business Practice: 65-87. Cham: Springer International Publishing.
---
Discussion Papers
Hensel, D. (2020). 'Validierung der Semantic Misattribution Procedure als ein implizites Maß des University Brandings.' Diskussionsbeiträge des Instituts für Marketing (ISSN 2193-8482), Nr. 10: 1-36.