Jana Cordes, M.Sc.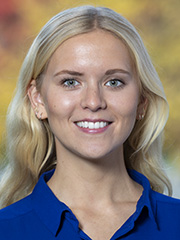 Photo: UHH, RRZ/MCC, Mentz
Research Associate
Chair of Public Management
Address
Universität Hamburg
Faculty of Business, Economics and Social Sciences
Socioeconomics
Business Administration
Von-Melle-Park 9
20146 Hamburg
Office
Room: B236
Contact
CV
Jana Cordes has been working as a doctoral researcher at the Chair of Public Management at Universität Hamburg since June 2019. Her research focuses on recruitment strategies for the public sector.
She holds a Bachelor's degree in Business Psychology from the University of Applied Sciences Osnabrück and a Master's degree in Management and Human Resources from Leuphana University of Lüneburg. During her studies, Jana specialized in the fields of leadership, staff motivation and recruitment. She also gained practical experience during internships in corporations, start-ups and consultancies in the fields of human resources, innovation and digital transformation.
Research and Teaching
Research
Recruitment strategies
Sector attraction
Work engagement
Teaching
SoSe 2021: BA Socioeconomics - Theoretical and Practical Aspects of Public and Nonprofit Management (tutorial)
WiSe 2020/21: BA Socioeconomics - Human Resource Management in the Public Sector (seminar)
WiSe 2020/21: MSc PUNO - Public and NPO Methods (lecture and tutorial)
SoSe 2020: BA Socioeconomics - Human Resource Management in the Public Sector (seminar)
WiSe 2019/20: MSc PUNO - Public and NPO Methods (lecture and tutorial)
WiSe 2019/20: BA Socioeconomics - Public and Nonprofit Management (tutorial)
WiSe 2019/20: BA Socioeconomics - Theoretical and Practical Aspects of Public and Nonprofit Management (tutorial)