Leonie Backhaus, M.Sc.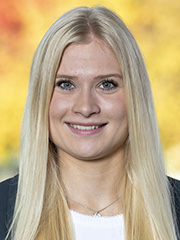 Photo: UHH, RRZ/MCC, Mentz
Research Associate
Chair of Public Management
Address
Universität Hamburg
Faculty of Business, Economics and Social Sciences
Socioeconomics
Business Administration
Von-Melle-Park 9
20146 Hamburg
Office
Room: B239
Contact
CV
Leonie Backhaus has been working as a PhD student and doctoral researcher at the Chair of Public Management at Universität Hamburg since January 2020. 
She holds a Bachelor's and Master's degree in Psychology with a focus on Human Resources and Business Psychology from the University of Münster. During her studies, Leonie gained profound methodological knowledge and specialized in the fields of staff development, staff motivation, modern leadership and change management. She worked as a student assistant at the Chair of Statistics and Methods, the Chair of Psychological Diagnostics and Personality Psychology as well as the Chair of Organization and Business Psychology. She also gained practical experience during an internship in the field of human resources.
Publications
Backhaus, L., & Vogel, R. (2022). Leadership in the public sector: A meta-analysis of styles, outcomes, contexts, and methods. Public Administration Review, 82 (6), 986-1003. Open Access
Backhaus, L., Reuber, A., Vogel, D., & Vogel R. (2022). Giving sense about paradoxes: Paradoxical leadership in the public sector. Public Management Review, 24 (9), 1478-1498.
Research and Teaching
Research
Dynamic leadership approaches
Leadership development
Teaching
SoSe 2022: MSc PUNO - Leadership in Public Organizations (seminar)
SoSe 2022: BA Socioeconomics - Human Resource Development in the Public Sector (seminar)
WiSe 2021/22: BA Socioeconomics - Human Resource Development in the Public Sector (seminar)
WiSe 2021/22: BA Socioeconomics - Theoretical and Practical Implications of Public and Nonprofit Management (tutorial)
SoSe 2021: BA Socioeconomics - Public and Nonprofit Management (tutorial)
SoSe 2021: BA Socioeconomics - Training and Development in the Public Sector (seminar)
WiSe 2020/21: BA Socioeconomics -  Interdisciplinary Introductory Course "Working Together: Leadership and Team Spirit 4.0" (proseminar)
WiSe 2020/21: BA Socioeconomics - Public and Nonprofit Management (tutorial)
SoSe 2020: BA Socioeconomics - Interdisciplinary Introductory Course "Working Together: Leadership and Team Spirit 4.0" (proseminar)
SoSe 2020: MSc PUNO - Open Space (seminar)