Dr. Hendrik Bruns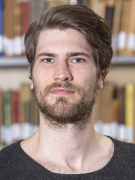 Photo: UHH, RRZ/MCC, Mentz
Research associate Prof. Perino
Address
Universität Hamburg
Faculty of Business, Economics and Social Sciences
Sozialökonomie
Volkswirtschaftslehre
Welckerstraße 8
20354 Hamburg
Office
Room: 4.14
Contact
Personal webpage:
http://www.hendrikbruns.tk/

Hendrik Bruns is a PhD student at the International Max Planck Research School on Earth System Modelling (IMPRS-ESM) of the Max-Planck Institute for Meteorology and the University of Hamburg (since 2015).

Hendriks research interest regards questions of the environment, climate change and sustainability from an interdisciplinary, as well as behavioral-economics perspective. To answer these questions he primarily applies experimental methods. Furthermore, he is also interested in the critical assessment of neoclassical concepts and methods in (environmental) economics, as well as their implications for policy. His research focusses on the influence of so-called libertarian paternalistic interventions (i.e., nudges) on individual voluntary contributions to climate protection.
His doctoral dissertation has the title "Environmental Policy: How context affects behavior".
Education
Dr. rer. pol., Universität Hamburg 2018
MA Sustainability Economics & Management, University Kassel, 2015
BA Geography and Economics, University Osnabrück, 2011
Visiting student, Geography, University of Manchester, 2010
Publications
Hendrik Bruns, Elena Kantorowicz-Reznichenko, Katharina Klement, Marijane Luistro Jonsson and Bilel Rahali . "Can Nudges Be Transparent and Yet Effective?". Journal of Economic Psychology 65. (2018) DOI
Complete list of publications
Academic career
Senior Research Associate, Professor Grischa Perino, Department of Socioeconomics, Faculty of Business, Economics & Social Sciences, Universität Hamburg, since 2018
Ph.D. stipendary of the International Max-Planck Research School on Earth System Modeling, 2015-2018
---