Jordis Grimm, MiBA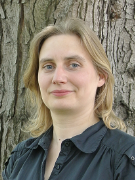 Photo: UHH/Högy
Research Associate
Address
Universität Hamburg
Faculty of Business, Economics and Social Sciences
Sozialökonomie
Betriebswirtschaftslehre
Von-Melle-Park 9
20146 Hamburg
Office
Room: B529
Office hours
nach Vereinbarung
Contact
Fax: +49 40 42838-2128
Academic career
| | |
| --- | --- |
| seit 09/12  | Wissenschaftliche Mitarbeiterin an der Professur für Betriebswirtschaftslehre, insb. Unternehmensethik, Prof. Dr. Dirk Ulrich Gilbert | Universität Hamburg. Forschung und Lehre im Bereich strategisches Management und Unternehmensethik. |
| 06/07-07/12 | Wissenschaftliche Mitarbeiterin am Centre for Sustainability Management (CSM) der Leuphana Universität Lüneburg, Prof. Schaltegger. Verantwortlich für Weiterbildungs-programme für Fach- und Führungskräfte aus Afrika, Asien und Lateinamerika, in Kooperation mit Inwent gGmbH und Deutsche Gesellschaft für Internationale Zusammenarbeit (GIZ) |
| 03/06-05/06 | Forschungsaufenthalt am Sustainable Europe Research Institute, Wien |
| 05/04-12/06 | Studentische Mitarbeiterin bei Prof. Panther, Professur für Internationale und Institutionelle Ökonomik mit Regionalschwerpunkt Spanien/Lateinamerika |
| 10/04-03/07 | Master of International Business Administration (MiBA) | Universität Hamburg |
| 09/03-01/04 | Forschungsaufenthalt am Deutschen Institut für Entwicklungspolitik, Bonn |
| 10/00-04/04 | Bachelor of International Business Administration (B.A.), Univ. Flensburg und Universidad Técnica Federico Santa Maria, Valparaíso, Chile |
Research interests
Nachhaltigkeits- und Accountability-Standards in Konzeption und Anwendung
Business at the Base-of-the-Pyramid und Inclusive Business
Schnittstelle zwischen Nachhaltigkeitsmanagement und Entwicklungszusammenarbeit
Publikationen
Grimm, Jordis/ Schormair, Maximilian/ Gilbert, Dirk Ulrich (2020): Co-Constructing Decoupling and Recoupling: A Process Perspective on the IAS DETOX. Academy of Managment Proceedings (Best Papers), Vol. 2020 (1). Published Online: 29. Jul. 2020 https://doi.org/10.5465/AMBPP.2020.151
Grimm, Jordis / Gilbert, Dirk Ulrich (2019): Gaining Mutual Benefits Through Business-non-profit Partnership in Base-of-the-Pyramid Markets: A Relational View, in: Sales, Arnaud (Ed.): Corporate Social Responsibility and Corporate Change. Institutional and Organizational Perspectives, Springer International Publishing, pp. 177-203.
Grimm, Jordis (2008): Corporate Social Responsibility und Entwicklungszusammenarbeit. Eine fruchtbare Kooperation zur nachhaltigen Gestaltung von Wertschöpfungsketten? Centre of International Studies (CIS) Hamburg. CIS Papers No. 19.
Grimm, Jordis (2006): Ergebnisse der Glücksforschung und was Regionen davon lernen können. SERI Background Papers No. 10.
---