Dr. Tanja Ohlson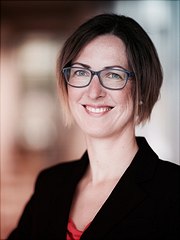 Former Postdoctoral Researcher
Address
Universität Hamburg
Research interests
Impact Investing
Sustainable Finance
Complexity and practice-driven organisational change
Short bio
Tanja Ohlson was a postdoctoral research associate in the School of Business, Economics, and Social Science at the University of Hamburg. Her research focuses on impact investing, particularly on shareholder engagement for sustainability and communication of and about social and environmental impact. Among others, as a scientific advisor, she supported Professor Busch in his role as a member of the Federal Government's steering committee of the Climate Protection Science Platform. The latter is set out to make suggestions for improvements to the recent Climate Action Program 2030 and monitor the latter's implementation.
She finished her doctoral degree at the Said Business School of the University of Oxford. There, she is a member of New College, which awarded her the Millman Scholarship, and is also affiliated with the Oxford Centre for Corporate Reputation.
Prior to starting her doctorate, Tanja received her MBA from Loughborough University, where she was awarded a Gold Scholarship. She also obtained a Master of Arts in Corporate Communication at State University of New York (SUNY), Albany.
Before she returned to academia, Tanja worked in financial reporting, communications, and management consulting.
Publications
Seidl D., Ohlson, T., and Whittington, R. (forthcoming). Restless Practices and the Origins of Institutional Change: Cases from Consulting and Standard-Setting. In: Research in the Sociology of Organizations. Edited by Lounsbury, M. and Smets, M.
Ohlson, T. and Yakis-Douglas, B. (2019). Practices of transparency in Open Strategy: Beyond the dichotomy of voluntary and mandatory disclosure. In: Seidl, D., Whittington, R. & Von Krogh, G. (eds.) Cambridge Handbook on Open Strategy. Cambridge.
Ohlson, T. and Yakis-Douglas, B. (2018). Strategic Communication Plans. In: Heath, R. and Johansen, W. (eds.) International Encyclopedia of Strategic Communication. Wiley-Blackwell.
Conference presentations
Ohlson, T., Whittington, R., Seidl, D. N., Dobusch, L., Hautz, J., Majchrzak, A., Mantere, S., (2019). Inclusive Strategy: Opening Strategy to the Middle, Below and Beyond. Academy of Management Proceedings, 2019(1), 10632.