Frederik Charalambous, B.Sc.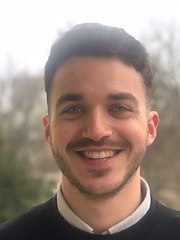 Photo: F. Charalambous
Student Assistant
Chair of Management of Public, Private and Nonprofit Organizations
Address
Universität Hamburg
Faculty of Business, Economics and Social Sciences
Socioeconomics
Von-Melle-Park 9
20146 Hamburg
Office
VMP9
Room: B228
Office hours
by appointment per email
Contact
CV
since September 2023: student assistant at the chair of Prof. Dr. Boenigk
since October 2022: student of M.Sc. in Interdisciplinary Public and Nonprofit Studies at the Universität Hamburg
September 2019 to December 2019: Semester abroad at the Nova School of Business and Economics, Lisbon
September 2017 to January 2021: Bachelor's degree (B.Sc.) in Business Education at the University of Mannheim. Topic of the bachelor thesis: "Employee participation in healthcare".