Aaron Kreimer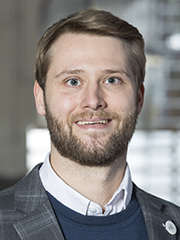 Photo: UHH, RRZ/MCC, Mentz
Doctoral student
Chair for Business Administration, especially Management of Public, Private & Nonprofit Organizations
Address
Universität Hamburg
Faculty of Business, Economics and Social Sciences
Sozialökonomie
Sozialökonomie
Betriebswirtschaftslehre
Von-Melle-Park 9
20146 Hamburg
Office
Room: B227
Contact
Scientific career
Since October 2016: Research Assistant and Doctoral Student in Nonprofit Management

October 2013 - May 2016: Master of Science, Psychology, Leopold-Franzens-Universität Innsbruck, Austria,Topic of master thesis: "Die Auswirkungen berufsimmanenter Arbeitsbelastungen auf die Irritation von Assistenzärzten und die Bereitschaft psychologische Unterstützung in Anspruch zu nehmen "

October 2010 - July 2013: Bachelor of Science, Psychology, Leopold-Franzens-Universität Innsbruck, Topic of bachelor thesis: "Entwicklung und Evaluation eines Trainings des sozialisierten Machtmotivs"
Publications
Conference proceedings:
Kreimer, A./Quetschlich-Willems, N. & Boenigk, S. (2018). How do fundraisers learn?, presented at ISTR: International Society of Third-Sector Research 13th International Conference, July 10-13 2018, Amsterdam, The Netherlands.
Boenigk, S./Kreimer A. (2017): Transformative Services im Kontext der Flüchtlingskrise, präsentiert auf dem Doktoranden- und Habilitandenseminar "Management Science", 19.-21. Juni 2017, Speyer (Deutschland).
Boenigk, S./Kreimer A. (2017): Role-changing behaviors and outcomes of public and nonprofit organizations within the 2015 refugee crisis: a study of positive deviance, präsentiert auf der EIASM: 11TH WORKSHOP ON THE CHALLENGES OF MANAGING THE THIRD SECTOR, 14-15.Juni 2017 Belfast (PDF).
Academic and scientific activities
Service Learning (Bachelor program Socioeconomics)
Seminar
Summer term 2018, winter term 2017/18
Advanced Methods: SPSS, PLS and Questionnaires (Master program Interdisciplinary Public and Nonprofit Studies)
Seminar
Winter term 2018/19
Introduction to Qualitative Research Methods (Master program Interdisciplinary Public and Nonprofit Studies)
Seminar
Summer term 2018
Public & Nonprofit Management (Bachelor program Socioeconomics)
Lecture, Summer term 2017
Assistant, tutorial, winter term 2016/17
Research Seminar (Master program Interdisciplinary Public and Nonprofit Studies)
Assistant to Prof. Boenigk
Summer term 2017, winter term 2016/17
Research Interests
Refugee crisis and management
---