Sebastian Link, M.A.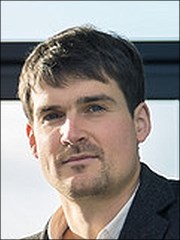 Photo: UHH/Dingler
Research Assistant
Address
Universität Hamburg
Faculty of Business, Economics and Social Sciences
Welckerstraße 8
20354 Hamburg
Office
Room: 5.16
Contact
Fax: +49 40 4273-13836
Main Areas of Research
Poverty and Social Inequality in Welfare States
Adolescence and Young Adulthood
Changing Labour Market
Social Capital, Social Networks, Participation
Quantitative Methods
Dissertation Project
In the framework of my dissertation project, I investigate the financial situation of young adults when entering the workforce and pose the question in how far labour market and social policies can safeguard the increasingly hazardeous and uncertain conditions related to such an entry. In this context, I study the entry of young adults into the workforce since the early 1990ies with the aid of representative data and longitudenal analysis methods. Supervisors are Prof. Dr. Petra Böhnke und Prof. Dr. Henning Lohmann.
.
Curriculum Vitae
November 2013 - present
Research Assistant at the Chair of Sociology - Social Change, Department of Socioeconomics, Universität Hamburg
2011 – 2013
Student Assistent for the Project "Social Capital in the Life Course", Universität Hamburg
2009 – 2010
Student Assistent at the Institute for Appled Social Sciences, Univerität Bonn
2008 – 2013
Studies in Sociology, Economics and Poltical Science at the Universities of Hamburg, Bonn and Geneva.
Title of Master's Thesis: "Formen flexibler Beschäftigung und die Bedeutung sozialer Beziehungen"
Publications
Böhnke, Petra; Link, Sebastian (2017): Poverty and the Dynamics of Social Networks: An Analysis of German Panel Data. In: European Sociological Review, Vol. 33 (4): 615-632.
Böhnke, Petra; Zeh, Janina; Link, Sebastian (2015): Atypische Beschäftigung im Erwerbsverlauf: Verlaufstypen als Ausdruck sozialer Spaltung? Zeitschrift für Soziologie 44: 234–252.
Presentations and Talks
"Armutsgefährdung Jungerwachsener – Ursachen und Auswirkungen"; Fachveranstaltung Jugend Aktiv Plus "ArMUT & Orientierung"; 9. Oktober 2020, Hamburg.
 "Subjektive Prekarität im Erwerbsverlauf: Atypische Beschäftigungsverhältnisse und die Entstehung von Unsicherheit in verschiedenen Phasen des Erwerbslebens"; 40. Kongress der Deutschen Gesellschaft für Soziologie; 14.-24. September (zusammen mit Petra Böhnke).
"Mitigating the financial consequences of problematic labour market entries – does family fill the gap of a retrenching welfare state?"; 27th Annual Workshop Transitions in Youth (TIY), 2.- 5. Oktober 2019, Maastricht. 
"Early-career labour market risks and poverty: the role of welfare state and family change in Germany, 1991-2014" (Poster); ISA RC28 Spring Meeting, 21.-23. März 2019, Frankfurt.             
"Dynamiken von Armut beim Übergang in das Erwerbsleben. Wohlfahrtsstaatliche Politiken und intergenerationale Unterstützung"; 3. Rhein-Ruhr Promovendensymposium "Arbeit und Soziale Sicherheit"; 12.-13. March 2015; Duisburg.
"Flexible Beschäftigung und soziale Unterstützungsbeziehungen"; Workshop "Beschäftigungsqualität im beruflichen, familiären und betrieblichen Kontext"; IAB/ DGS-Sektion Soziale Ungleichheit und Sozialstrukturanalyse; 20.-21. November 2014; Nürnberg (together with Petra Böhnke).
"Poverty Dynamics and the Transition to Adulthood"; InGRID Summer School on Advanced Poverty Research "Intergenerational and Life-Course Transmissions of Poverty"; 15.-19. September 2014; Bremen.
"Atypical Employment: Types of Employment Careers and Socio-economic Risks"; 11th International German Socio-Economic Panel User Conference; Deutsches Institut für Wirtschaftsforschung (DIW) / Hertie School of Governance; 30. June-1. July 2014; Berlin (together with Petra Böhnke und Janina Zeh, talk given by: Sebastian Link).
"Die Dynamik von Sozialkapital in Armutslagen", Konferenz "Soziale Beziehungen und soziales Kapital in kritischen Lebensphasen"; 20.-21. June 2014; Hamburg (together with Petra Böhnke, talk given by: Sebastian Link).
"Atypische Beschäftigungen im Erwerbsverlauf. Verlaufstypen und Prekaritätsrisiken"; Tagung "Die gespaltene Gesellschaft – Sozialwissenschaftliche Perspektiven auf alte und neue soziale Ungleichheiten; Sektion Soziale Ungleichheit der Österreichischen Gesellschaft für Soziologie (ÖGS); 6. December 2012; Linz (together with Janina Zeh).