Prof. Dr. Amrita Narlikar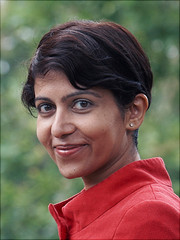 Photo: Charlie Grey
Professor for Political Science and International Relations; President of the GIGA
Address
GIGA German Institute of Global and Area Studies
Neuer Jungfernstieg 21
20354 Hamburg
Contact
GIGA German Institute of Global and Area Studies
Leibniz-Institut für Globale und Regionale Studien
Neuer Jungfernstieg 21
20354 Hamburg
Short Bio
Professor Amrita Narlikar is the President of the GIGA German Institute of Global and Area Studies and Professor at the University of Hamburg.
Prof. Narlikar came to Hamburg from the University of Cambridge, where she was Reader in International Political Economy and the Founding Director of the Centre for Rising Powers. She was a Fellow of Darwin College, Cambridge. She also has intellectual roots at the University of Oxford, where she read International Relations at Balliol for her M.Phil. and D.Phil., and also held a Junior Research Fellowship at St John's College, Oxford.
Prof. Narlikar has had several books published with prestigious publishing houses, including Oxford University Press and Cambridge University Press. She has authored/ co-authored four books, edited/ co-edited three books, and guest edited/ co-edited two journal special issues. Prof. Narlikar has also had over 50 papers published as articles or book chapters in international journals and agenda-setting books. Her research expertise lies in the areas of international trade, rising powers, and multilateral negotiations. She also maintains a strong research interest in India's foreign policy and economy, Sanskrit, and Indian philosophy.
Publications
For a complete and regularly updated list of Prof Narlikar's publications, please refer to the corresponding section on the GIGA website.
Teaching
Multilateralism in Crisis?, Universität Hamburg, SoSe 2019
International Trade, Universität Hamburg, SoSe 2018
 Understanding, Explaining, and Renegotiating Globalisation, Universität Hamburg, WiSe 2017/2018
 The Politics of the Multilateral Trading System, Universität Hamburg, WiSe 2016/2017
 Managing Globalization, Universität Hamburg, SoSe 2016
 The Politics of the Multilateral Trading System, Universität Hamburg, WiSe 2015/2016