Prof. Dr. Amrita Narlikar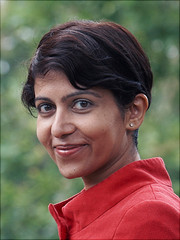 Photo: Charlie Grey
Professor for Political Science and International Relations; President of the GIGA
Address
GIGA German Institute for Global and Area Studies
Neuer Jungfernstieg 21
20354 Hamburg
Contact
GIGA German Institute for Global and Area Studies
Leibniz-Institut für Globale und Regionale Studien
Neuer Jungfernstieg 21
20354 Hamburg
Short Bio
Prof. Dr Amrita Narlikar is the President of the German Institute for Global and Area Studies (GIGA) and Professor of International Relations at Hamburg University. She also is Honorary Fellow of Darwin College (University of Cambridge), non-resident Senior Fellow at the Observer Research Foundation (ORF), and Distinguished International Fellow of the Indian Association of International Studies (IAIS).
Prior to moving to Hamburg, she held the position of Reader in International Political Economy at the University of Cambridge. She was also Senior Research Associate at the Centre for International Studies at the University of Oxford for over a decade. She read for her M.Phil. and D.Phil. at Balliol, Oxford, and held a Junior Research Fellowship at St John's, Oxford.
Amrita's expertise lies in the areas of multilateralism, international negotiation, World Trade Organization, and rising powers. Her research has been published in the top, peer-reviewed journals in the field, including International Affairs, Journal of European Public Policy, International Politics, and The World Economy. She has authored/ edited 12 books, including Poverty Narratives in International Trade Negotiations and Beyond in 2020; Bargaining with a Rising India: Lessons from the Mahabharata (co-authored) 2014; and The Oxford Handbook on the World Trade Organization (co-edited) 2012.
The policy relevance of her research brings Prof. Narlikar into frequent and close exchange with practitioners. She has authored several policy briefs (e.g. Munich Security Times, CIGI, Commonwealth Secretariat, Global Policy, etc.), and has had her expertise cited in a range of media outlets (e.g. Le Monde, Frankfurter Allgemeine Zeitung, Der Tagesspiegel, Die Welt, Spiegel Online, Deutsche Welle, NDR, BBC, etc.).
Twitter handle: @AmritaNarlikar
Teaching
Multilateralism, Crisis, and Coronavirus, Universität Hamburg, WiSe 2020/2021
Economic Statecraft and Weaponized Interdependence, Universität Hamburg, SoSe 2020
World Trade Organisation: Successes, Controversies, Reform, Universität Hamburg, WiSe 2019/2020
Multilateralism in Crisis?, Universität Hamburg, SoSe 2019
International Trade, Universität Hamburg, SoSe 2018
 Understanding, Explaining, and Renegotiating Globalisation, Universität Hamburg, WiSe 2017/2018
 The Politics of the Multilateral Trading System, Universität Hamburg, WiSe 2016/2017
 Managing Globalization, Universität Hamburg, SoSe 2016
 The Politics of the Multilateral Trading System, Universität Hamburg, WiSe 2015/2016