Clara Franco Yáñez, M.A.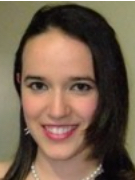 Photo: Clara Franco Yáñez
Doctoral student Prof. Wiener (since October 2016)
Address
GIGA – German Institute of Global and Area Studies
Institute of Latin American Studies (ILAS)
Neuer Jungfernstieg 21
20354 Hamburg
Contact
"The politics of advocacy for maternal health: Portraying persons in transnational advocacy for and against the legalization of abortion. The cases of Mexico and Chile in the last decade".
The research project aims at studying the transnational advocacy that has, in recent years, surrounded the political debate about the liberalization of abortion laws in Mexico (focusing particularly on the case of the capital, Mexico City) and in Chile. Building on previous research carried out at the Master level, the thesis aims to build on the element of "the politization of personalities"; referring to the presence of images and discourses of several categories of individuals ("personalities") as crucial elements of various modern advocacy campaigns.
Advocates portray, depict, ascribe meanings to, use testimonies from, negotiate and come in contact with various categories of personalities; in order to draw attention towards their campaigns, generate empathy and stir emotions, affect public opinion, and ultimately do what is often their larger goal: target policymakers and change policies or laws. The "politics of personalities", therefore, refers to the use of the stories, testimonies, discourses, images or direct messages from different categories of individuals, for transnational advocacy purposes. Aiming to provide a deep and grounded study of the advocacy carried out both for and against the legalization of abortion in Mexico and in Chile, the project relies on fieldwork through semi-structured interviews with advocates working on the issue of abortion, as well as advocates in diverse transnational and international organizations working on women's rights and reproductive rights.
The project is funded by the Consejo Nacional de Ciencia y Technologia, CONACYT (Mexican National Council on Science and Technology).
Research topics:
Advocacy on health-related issues
Gender issues
Human Rights and advocacy
Mexico
Chile
Publications: