Ana Soares, M.A.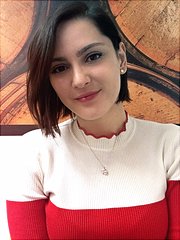 Photo: Ana Soares
Doctoral student Prof. Wiener (since October 2018)
Address
Universität Hamburg
Faculty of Business, Economics and Social Sciences
Sozialwissenschaften
Politikwissenschaft
Welckerstr. 8
20354 Hamburg
Office
Center for Sustainable Society Research (CSS)
Room: 1.11
Contact
Research: 
Are Securitizing Narratives a Cause for Societal Mobilization? The Protests in Brazil and the Problem of the Audience 
The Copenhagen School Securitization Theory (ST) deals with the construction of security issues and their resolution within politics that transform structures and social behaviors. For a matter to be securitized, it requires the utterance of a securitizing discourse by a relevant actor and the legitimation of the discourse by an audience. Protests are the highest expression of citizen agency in democratic societies. They allow the voicing of dissatisfaction, the communication with government representatives, and the promotion of change. There were 1,285 protests from 2011 to 2016 in Brazil, and two of these cycles of protests (in 2013 and 2015-2016), which were more violent and chaotic, changed the status quo of the country using social media as a mean of mobilization. Are protests then part of a securitization process for generating agency and constructing an audience? What is the role of social media in the creation of narratives and violent uprisals? This work aims to answer these questions by: 1. using the collective actions that happened in Brazil as case studies; 2. collecting and analysing the so-called framing discourses on Twitter and Facebook; 3. introducing the concepts of kinetic power of transformation and mobilizing narratives, to make a connection between the Securitization Theory and the protest cycles. 
Funding: Fellowship by Korad-Adenauer-Stiftung 
Research topics: 
Security Studies
Securitization Theory
Political Science Fiction
Collective Action
International Relations 
Publications:

Book Review: Brzoska, Michael, Hrsg. 2014. "European Peace and Security Policy: Transnational Risks of Violence". Demokratie, Sicherheit, Frieden 214. Baden-Baden: Nomos. Politik 100x100 Blog UniHH (September 2019). Available here.
"Human Rights for Righteous Humans": The Influence of Brazilian Conservatism on the National Perception of Human Rights. COJOURN, Vol 3, n. 2 (October 2018). Available here.
"Compartilhando a Democracia: o papel das midias sociais no processo de securitização da Primavera Árabe" (Sharing Democracy: the role of social medias in the securitization of the Arab Spring) in: RIC – Revista de Iniciação Científica em Relações Internacionais, Vol 2, n. 3 (2014). Available here