Alvine Datchoua-Tirvaudey, M.A.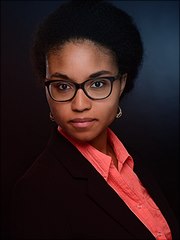 Photo: Alvine
Doctoral student Prof. Dr. Jürgen Scheffran (supervisor, since May 2019) and Prof. Wiener (co-supervisor, since August 2019)
Address
Universität Hamburg
Faculty of Mathematics, Informatics and Natural Sciences
Institute for Geography
Grindelberg 5
20144 Hamburg
Office
Room: 309
Contact
Local contestations of global climate governance norms and conflicts in sensitive regions
It appears that global norms of climate governance do not match the expectations of local populations worldwide and interests of interdisciplinary actors at different scales. In that regard, this study investigates into local and regional contestations in the Arctic and the Mediterranean. Indeed, it observes the gaps in the practices of global climate governance norms. The research focuses especially on climate justice claims and contestations on energy use, exploration, extraction and production (both renewables and fossil fuels). Indeed, the Arctic and the Mediterranean warm faster than other regions and contain coveted unexplored fossil fuel resources, which would undermine the Paris Agreement's climate goals and other climate initiatives should they be used. Furthermore, they are politically and geopolitically sensitive, as well as subject to many conflicts of interest. Hence, both regions are crucial in re-thinking global climate governance with a conflict-sensitive approach.
In that respect, cultural diversity in designing global climate governance is a focal point of resourcefulness and an asset for climate change transformation(s) and mitigation(s). As other international organisations, the UNFCCC can be criticised for its Western-centred philosophical thinking with neo-liberal and neo-colonial approaches to governance. This lack of inclusivity creates issues of legitimacy of the institution and/or the norms produced at a global level. Therefore, one will look at different bottom-up pathways and diverse cultural and philosophical perspectives on governance (e.g. Indigenous Knowledge) to re-think multi-scalar climate governance.
Affiliated Research Projects
CEN – Centrum für Erdsystemforschung und Nachhaltigkeit
CLICCS – Cluster of Excellence for Climate, Climatic Change and Society
B2- Dynamics of Climate Governance: Norms, Contestation, and Policies
CEN – Centrum für Erdsystemforschung und Nachhaltigkeit
CLISEC – Climate and Security Research Group ( Prof. Dr. Jürgen Scheffran)