Ervin Kondakciu, MSc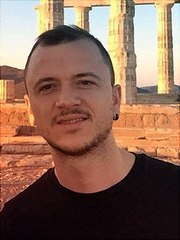 Research Associate
Address
Universität Hamburg
Sozialwissenschaften
Politikwissenschaft
Allendeplatz 1
20146 Hamburg, Germany
Office
Room: 408b
Office hours
Only by appointment via email.
Contact
---
Secretary's office
Secretary
Sozialwissenschaften
Politikwissenschaft
Allende-Platz 1
20146 Hamburg, Germany
Room: 205
CV
Academic Position
Since 10/2017 - Research Associate, Hamburg University, Faculty of Economics and Social Sciences, Political Theory
Education
2015–2017 - M.Sc. Politics, Economics, and Philosophy, Hamburg University
2009-2015 - Ptychion Political Science and Public Administration, National and Kapodistrian University of Athens, Greece
2006-2009 - Graduated from 43rd Lyceum of Athens, Greece
Scholarships
2015-2017 - DAAD Postgraduate Fellow
Publications
2019
Reviews
Civil disobedience, Scheuerman, William E., Cambridge and Medford, MA: Polity Press, 2018. Constellations 26 (3): 508-510. (Link)
Press
The left will be international or it won't be at all: lesson from Greece, in openDemocracy.  (Link)
Reports
Report of the Workshop: "Understanding Solidarity - New Challenges, New Approaches", 25.-27. Januar 2019, im Blog des Fachgebiets Politikwissenschaft zum Universitätsjubiläum Politik 100x100 (in English) (Link)
Academia page (Link)
Teaching
Spring 2020
Fall 2019/2020
Ziviler Ungehorsam: Die Grenzen der Demokratie?
Spring 2019
Critical Theory: From the Founders to the Epigones
Fall 2018/2019
Klassische Texte des Politischen Denkens
Spring 2018
Fall 2017/2018
Civil Disobedience: Illegitimate Resistance or Justified Law-Breaking?
---