Dr. Angela Pohlmann, M.A.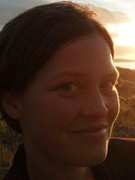 Photo: Angela Pohlmann
Post-Doc
Address
Universität Hamburg
Faculty of Business, Economics and Social Sciences
Sozialwissenschaften
Soziologie
Allende-Platz 1
20146 Hamburg
Office
Room: 425
Office hours
Please register for office hours
Contact
Vorträge
"Kultur Energie Bunker Altona Projekt: Erfahrungen aus der Praxis" Heike Breitenfeld und Angela Pohlmann; Präsentation und Diskussion des Arbeitspapiers "Bottom-Up Geschichten nachhaltigkeitsorientierter partizipativer Forschung", Vereinigung Deutscher Wissenschaftler, 1. Dezember 2014, Berlin

"Reproducing or challenging the energy regime? Urban heat projects as social practice and symbolic conflict"; Reserch Councils UK: Heat and the City  International Workshop - Sustainable Heating Provisions and Cities: Theory, Practice and Future Implications, 2-­3 October 2014, University of Edinburgh

"Sociotechnical innovation and symbolic struggles - hidden forms of power and local renewable energy projects"; 5th International Sustainability Transitions Conference, 27. - 29. August 2014, Utrecht
"Socio-technical Innovation and Symbolic Power - Hidden Forms of Power and Local Renewable Energy Projects"; Norwich Conference on Earth System Governance", 1-3 July 2014, University of East Anglia and Tyndall Centre for Climate Change Research
"Hidden forms of power and local renewable energy projects"; New Directions, 3./4. August, School of Social and Political Science, University of Edinburgh

"Soziotechnische Innovationen und Symbolische Macht - Gesellschaftliche (Macht-)Verhältnisse und Selektionsentscheidungen in lokalen erneuerbaren Energieprojekten";  Tagung "Neue Governance-Formen für eine nachhaltige Gesellschaftstransformation" 14./15. Oktober 2013, <abbr title="Zentrum Technik und Gesellschaft">ZTG</abbr> und Institut für Sozialinnovationen (ISInova), Berlin
Publikationen
Pohlmann, Angela 2011: Local Climate Change Governance, in Engels, Anita (ed.), Global Transformations towards a Low Carbon Society, 5 (Working Paper Series), Hamburg: University of Hamburg / KlimaCampus
Pohlmann, Angela (2011): Polish Spaces in Polish Irish Places: The Polish Dominican Community in Dublin. In: Astrid Wonneberger (Hg.) Cultural Contrasts in Dublin: A Montage of Ethnographic Studies. Reihe: lines. Beiträge zur Stadtforschung aus dem Institut für Ethnologie der Universität Hamburg, Bd. 6, Berlin/Münster/Wien/Zürich: LIT, S. 31-56.
CV
Juli 2017 Promotion (Dr. phil.) der Universität Hamburg, Fakultät für Wirtschaft- und Sozialwissenschaften, Fachbereich Soziologie

Titel der Arbeit: Situatedness of Social Practices: Three Case Studies about the Contextuality of Renewable Energy Production

Dezember 2010 Magistra Artium Universität Hamburg
Februar 2014 - Juni 2014 'visiting PhD-Student" an der Universität Edinburg, Institute of Sociology, Professor Janette Webb
Juni 2013 - September 2013 Forschungsaufenthalt in Schottland
November 2012 - November 2015 Promotionsstipendium der Heinrich-Böll Stiftung, Mitglied im Cluster Transformationsforschung
November 2011 Juli 2017 Promotionsstudentin an der Universität Hamburg, IFakultät für Wirtschafts- und Sozialwissenschften. Erstbetreuerin: Prof. Dr. Anita Engels
April 2005 - Okotber 2010 Studium der Ethnologie, Soziologie und der Rechtswissenschaft an der Universität Hamburg
Okotber 2002 – März 2005 Grundstudium der Ethnologie, Soziologie und der Rechtswissenschaft an der Georg-August Universität Göttingen
---