Dr. Radhika Mittal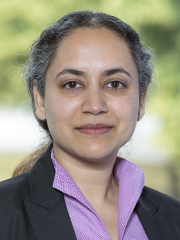 Senior Research Associate and Project Coordinator
Communication Studies, Climate and Science Communication
Address
Universität Hamburg
Faculty of Business, Economics and Social Sciences
Social Sciences
Sozialwissenschaften
Journalistik und Kommunikationswissenschaft
Postal Address: Allende-Platz 1
20146 Hamburg
Office
Office: Von-Melle-Park 9 (Building A)
Room: 408
Contact
Portrait
Radhika Mittal joined Prof. Bruggemann's team at the Faculty of Economics and Social Sciences in April 2018. She is coordinating and developing a new multi-disciplinary project titled Sustainable Lives: Food Choices as Politics and Lifestyle. The project is expected to assemble a rich and diverse set of pilot studies to examine how society perceives, engages with, frames, and makes decisions about climate-friendly food through the lens of sustainability. For more information you may visit as well climatematters.
Radhika Mittal's research interests include:
Communicating sustainable lifestyles
Climate change and risk communication
Policy communication
Journalism and sustainable development
Curriculum Vitae
Scientific Education
2009 - 2013

Doctor of Philosophy (Ph.D.), Sociology
Macquarie University, Sydney, Australia

2006 - 2008

Master of Arts (M. A.) in Journalism, Media and Globalisation
Erasmus Mundus Joint Degree from:
Universität Hamburg, Germany
University of Amsterdam, 'The Netherlands
University of Aarhus, Denmark

2001 - 2003

Master of Mass Communication (M.A. Journalism)
Symbiosis Institute of Mass Communication, Pune, India

1998 - 2001

Bachelor - Commerce and Economics (B.Com)
Sydenham Collecge of Commerce and Economics, Mumbai, India
Professional Background
 Since April 2018


Senior Researcher and Project Coordinator
Journalism and Communication Science
Universität Hamburg, Hamburg, Germany
2016 -  2017
Fellow and Faculty
Lal Bahadur Shastri National Academy of Administration, Mussoorie, India
2015
Adjunct Faculty at TERI University, Jamia Millia Islamia, and IIT-Delhi
2013 – 2014
Associate Fellow
The Energy and Resources Institute, New Delhi, India
2005 - 2006
Senior Copy Editor and Features Correspondent
The Times of India, Mumbai, India
2004
Senior Copywriter
Vyas Giannetti Creative Pvt. Ltd., Mumbai, India
2002 - 2003
Sub-Editor
The Indian Express, Pune, India
Scholarships and Awards
      2014       
Travel Award, International Association for Media and Communication
Research (IAMCR), Annual Conference
2012
Macquarie University Postgraduate Research Fund
    2010 - 2013    
Macquarie University Research Excellence Scholarship
2009
Innovative Universities of the European Union Scholarship
2006 - 2008
European Commission's Erasmus Mundus Stipendium
2001 - 2003
Merit-based Tuition Waiver, Symbiosis Institute of Mass Communication
2001
Certificate of Merit, (highest attainment)  Mass Communication,
Sydenham College
Publikations and Lectures
I. Papers
Mittal, R. (2012). Climate change coverage in Indian print media: a discourse analysis. The International Journal of Climate Change: Impacts and Responses, 3(2), 219-232. (http://www.researchonline.mq.edu.au/vital/access/manager/Repository/mq:20841/DS01)
II. Book Chapters
Mittal, R. (2015). Teaching Journalism for Sustainable Development, in Banda, F. (Ed.) Teaching Journalism for Sustainable Development: New Syllabi (2nd Ed. UNESCO Series on Journalism Education) (pp. 29-38). Paris, France: UNESCO.
(http://unesdoc.unesco.org/images/0023/002338/233878e.pdf)
Mittal, R. (2014). The environmental impact of unsustainable food practices: a review, in Sustainable Consumption, Climate Change and Consumers - Towards a Better Future, (edited volume published by Centre for Consumer Studies, Indian Institute of Public Administration, New Delhi)
III. Peer-reviewed Conference Papers
Mittal, R. (2015, February). Consuming the environment? Missing media narratives on food and climate change. Peer-reviewed paper presented at international conference 'India at Leisure: Media, Culture and Consumption in the New Economy' organised by Jamia Millia Islamia, India and University of Waikato, New Zealand, in Delhi, India
Mittal, R. (2014, July). Local food through the mediated lens of environmental sustainability. Peer-reviewed paper presented at the International Association for Media and Communication Research (IAMCR) annual conference, in Hyderabad, India
Mittal, R. (2012, August). Newspaper portrayals of climate-friendly, plant-based food practices: The New York Times and The Australian. Peer-reviewed paper presented at the Association for Education in Journalism & Mass Communication (AEJMC) annual conference, in Chicago, USA
IV. Popular Press (Authorship and Coverage)

Mittal, R. (2016, May launch issue). Veganism – The Environmental Imperative. Australian Vegans Journal. Retrieved from https://chuffed.org/project/australian-vegans
Mittal, R. (2015, March 19). With Heat On Pachauri, Climate Issues Left Out In The Cold. The Huffington Post. Retrieved from http://www.huffingtonpost.in/radhika-mittal/with-heat-on-pachauri-cli_b_6884364.html
Mittal, R. (2014, August 15). Climate change – what's that? The Hindu Business Line. Retrieved from http://www.thehindubusinessline.com/opinion/climate-change-whats-that/article6321561.ece
V.  Invited Talks (selected)
Workshop on Strategic Communication for National Informatics Centre scientists at IIT-Delhi, New Delhi, India, December and February 2018
Guest Lectures on Media Engagement and Public Speaking at the Assam Administrative Staff College, Government of Assam, Guwahati, India, 9th November 2017
Panelist at Indo-German Symposium on Science Communication: Bringing Science to People at the German Embassy, New Delhi, India, 7th November 2017
Lecture on Framing climate-friendly food practices: Evidence of dispossessed discourses from USA, Australia and India at the Cluster of Excellence 'Integrated Climate System Analysis and Prediction' (CLiSAP) – CRG: Media Constructions of Climate Change, University of Hamburg, Hamburg, Germany, 19th-20th December, 2016
 Lecture on Framing Climate Change: A Global Snapshot and the Indian Experience at IIT-Mandi, Himachal Pradesh, India, 11th March, 2016
Keynote Talk on Climate Change: Constructing the Conversation at Valedictory Function of National Training Programme on Climate Change News Coverage for Aspiring and Young Vernacular Media Persons, Madurai Kamraj University, School of Linguistics and Communication, supported by Earth Journalism Network and Internews, USA, Madurai, India, 29th January, 2016
 Public talk on What the media don't tell you: Busting food myths for SHARAN (Sanctuary for Health and Reconnection to Animals and Nature), Delhi, 14th February, 2016 and 14th December, 2014
 Moderator, Climate and Energy Panel, India + SocialGood Summit, The UN Foundation, Mumbai, India, 9th April 2014
 Moderator, Release of the IPCC 5th Assessment Report, Working Group II, by The UN Foundation, Delhi, India, 31st March 2014
 Panelist, Communicating Sustainable Consumption and Production, Sustainable Consumption and Production, panel at TERI's Delhi Sustainable Development Summit, Delhi, 5th Feb 2014
 Plenary Speaker, Climate Change Coverage in Indian Print Media, The Second International Conference on Climate Change, University of Queensland, Brisbane, Australia, 8-10th July 2010
---